Bad Algorithim - Bathe [Altar Of Waste - 2012]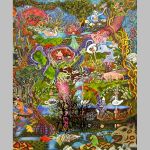 Here's another exquisitely packaged release on Altar Of Waste, containing three tracks of HNW from Bad Algorithim. The outside cover is quite spectacular: a garishly hued, Bosch-eque painting; depicting a multitude of flora, fauna and "beings" conspiring in bizarre acts. The inside cover and disc both feature paintings of prehistoric creatures - no real clues as to any meaning or "theme" here. The three tracks account for just over an hour of sound, and all are HNW, with few frills.

The first piece, "Truncated" starts off ok, but soon loses my ears' interests. The initial stuttering, crunchy mid-frequencies - supported by a low bass undertow - flit between opening out into broader waves, then tightening back in again. More often than not, though, the wall opens out into a fizzy, treble wash which does little for me. The reined-in, crunchier sections are much more engaging, but they're still founded on that fizzy texture - it sounds a little brittle. Jumping to the third track, "Pteranodon Was A Reptile, Not A Dinosaur", we find more treble; but this time its much more forceful, nasty and visceral. Its soon joined by a chaotic low end, all adding up to a window-rattling wall. These vicious squalls of sharpened fizz are sometimes tamed by the bass, as it churns them aside completely; whilst at other points, the treble becomes washy again - but the breakneck pace, matched and enhanced by the bass rumble, ensures that its savage tone doesn't let up. I've left the best till last: the second piece, "If I'm Not Back In Ten Minutes". This wall is frustratingly shorter than its fellow tracks - at twelve minutes, its less than half the lengths of the other two - but its a great, tense construction. It very simply agitates an isolated crackling texture with an undulating, unsettling horror drone. This low throb rises and falls, menacingly; giving the track a hallucinogenic quality - or rather, a nightmarish one. The crackle spits and dances on this bassy lurch, with little flecks emerging as the piece progresses. "Truncate" did this a little, also; but the washy nature of the track hid these more delicate textures.

This is a mixed album. I can't pretend that the first track did much for me; but the second work from Bad Algorithim was really very special indeed. One of the finest, harshly oppressive walls I've heard in a long time. To complete the story, the third piece is a very solid work too. So, on reflection, two out of three makes it a recommendable release; its certainly a project I will look out for in future.






Martin P