Deathchain - Ritual Death Metal [Svart - 2013]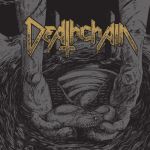 Deathchain. Deathchain. Deathchain. Deathchain. This name makes no sense, and it's not due to the semantic saturation I just subjected myself to. I guess having "death" in your name is to death metal what "goat" is to black metal. Just do it and watch the kids drink it up. This is Deathchain's (haha) sixth full length release in ten years, and first on the diverse Svart label. So, without mentioning the band name again, let's check out what these Finnish metalheads have put out, eh?

Ritual Death Metal is 45 minutes of quality metal. While I'm not a fan of the modern death metal sound (y'know, super fast, unrealistic, fake sounding drums...is that what a triggered set is? I honestly don't know), it's pretty easy to over look on this album. The album works very well as a whole, however, most songs are long and would probably work better as two, so, playing whole is rad, track by track, less so. Other than the one minute intro, all tracks are at least five minutes, and three are over seven. The boys have an ancient Mesopotamian thing going on here, much like Morbid Angel. I also find some similarity with their solos and those of Trey Azagthoth. That may be all in my head, though. The tracks on this album range from fast and heavy death metal to sludgy, blackened dirges. There are even bits of keyboards and haunting female vocals in the background. While I enjoy the album as a whole, there are a few standouts for me. The intro, "Voice of Sharur," sounds like an old record of a piano theme to a giallo. It totally doesn't set the right mood for the album, but it's really nice. "Our Lady Under the Earth" is third longest song on the album, and probably the most interesting. Speed makes an appearance, but leaves often enough for some awesome, slow and heavy riffing. Some parts are reminiscent of older Amorphis, there are female vocals that appear in the background, and also some fairly orchestral sounding bits kicking back there as well. The changes of pace keep you on your toes. "Tiamat's Eyes of Death" begins with a clean, chorused guitar over some waves. Totally unexpected. This then changes into something a little heavier, but not fast. I'm thinking like mid 90's Nuclear Blast type stuff. Anyway, it picks up, wails, and showcases some low buzzsawing that sounds typically Scandinavian.


Deathchain (... ... haha) have put together a really solid release with Ritual Death Metal. The older I get, the more particular and douchey I become. It certainly took me four or five listens to really appreciate this album. I'm glad I put the time in, though. As mentioned above, the material works better in a 45 minute chunk than song by song. Give it some spins and pretend that the mid 90's had faster drums.






Paul Casey