Megadeth - The World Needs a Hero [Sanctuary - 2001]Yeah, the world does. The world also needs good music and Megadeth should keep focused on that objective. For someone like me who never really got excited about the cartoonish Countdown to Extinction and never bothered to check out Risk because it looked so watered down and boring, this is the final argument: Megadeth haven't done it for me since Rust in Peace and I should forget about them!The 'deth clan should've learned from Metallica's mistakes and realized that doing sequels to your own song is not "a great way to get the old fans back by giving them something familiar" but instead a way to look weak since the new song will automatically be compared to the older one. In this case, "Return to Hangar" sounds uninspired and boring compared to the tornado of guitars that was the original. Sure Mustaine and Pitrelli shred and the song has a multitude of solos and some harmonized guitar lines, but underneath that flash (which is not very impressive for the most part anyway) the song is just a bunch of stop-start soulless down-tuned riffs that go nowhere and sound tired. "Moto Psycho", the first single isn't anything to get to excited about either, we get a chorus that tries very hard to be catchy but ends up just being silly, just like the outro of the song; why does everybody thinks that putting slow acoustic guitar and violin in a song makes it instantly "emotional" and "deeply personal"? Also, Mustaine's voice sounds unatural on a big portion of the record (probably due to digital pitch correction that tries keep it in the right key) which only reminds of how bad a singer he is and how much trouble he has composing a decent vocal melody. Damn the engineer who mixed his voice so high in the mix!I warn the 'deth fans who believed all this talk about "going back to their roots". What they meant wasn't a return to the energy and thrash days of the 80s, it was more a way to say: "This isn't like Risk". This album falls somewhere in the typical 90s Megadeth sound and it seems that the most innovative thing on it is the answering machine messages that can be heard in "The World Needs a Hero" (which has a chorus of Dave doing harmony with himself... I'll leave it at that) and "1000 goodbye" (a song about someone breaking up with him on the phone, how interesting. Well, the little climactic moment just before the solo around 4:20 into the song is actually kind of cool). We also get some semi-ballads like "Losing my Senses" which I find very dull and filled with pseudo-philosophical lyrics (like Dave suddenly realized that we're all going to die someday).Of course, I can't say that the whole thing is horrible, these musicians are obviously very proficient on their instruments and we can hear some nice leads (like at the end of "Recipe For Hate...Warhorse", "When" or the melodic solo in "Promises") and cool drumming on this album. I'd even go as far as to say that "Silent Scorn" is a decent instrumental. The problem is just that I don't feel very excited when listening to this material and it makes me wonder if the world really needed this? It just doesn't grab me and even though I'm sure that the people who liked what Megadeth has been doing in the 90s will love it and thank god that it's not Risk part 2, everybody else who are looking for great Megadeth should put Rust In Peace in the CD player and enjoy it while doing some research about other good bands who are in their prime at the moment.For the fans of 90s 'deth, consider it a 3/5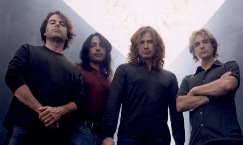 Megadeth - The World Needs a Hero
Yeah, the world does. The world also needs good music and Megadeth should keep focused on that objective. For someone like me who never really got excited ab...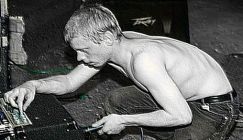 Striations - War-Torn Noise
One of the stand out noise releases of last year was Vietnamization by Oakland based Industrial/ Power Electronics project Striations. The release originally...