Dain Daller - The Tirehouse Tapes Vol.1 [Lighten Up Sounds - 2011]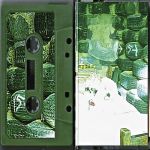 Another colourfully packaged tape on Lighten Up Sounds, with equally colourful contents. The smartly designed and printed inlay, wraps around seven tracks spread across approximately forty-eight minutes. The overall sound of these pieces is scratchy and noisy; though more in a lo-fi sense than in an abrasive one.

The inlay refers to "concrete sounds", and its entirely possible that there are no "instruments" played here by Dain Daller at all. The vast array of identifiable elements sound like recordings of household items and junk; two excellent examples of this being the use of nails in a tin (giving a nice trashy clatter), and what sounds like the tapping of containers in water (Daller manipulating the containers in the water to achieve melodic patterns). Broadening an interesting, but potentially limiting, palette, the album makes great use of radio and tape to provide more overt melodies and colour. Often using them in the manner of samplers, Daller pushes and pulls the radio/tape sounds using every knob and dial he can. On top of this, he uses the 4-track recorder to alter the pitch and speed of sounds: there are a few instances of "smurf" voices across the tracks. As I said earlier, the overall sound of the tape is somewhat noisy - though not in an aggressive sense; but whilst a fair amount of "The Tirehouse Tapes Vol.1" is brash and gestural, there are several more subdued, subtle passages. The start of "4" is almost electroacoustic in feel, with very stealthy tones; whilst "6" has deteriorating drones and loops, which are strained and haunting. The last track, "7", begins with a long creepy section of signal interference, coupled with unsettling breathing and slurping sounds. So the tape has a nice interplay between somewhat "droning" and more chaotic, overloaded structures; though it should be pointed out that Daller rarely uses collaging as such to achieve these latter effects - individual sounds are layered and wrapped around each other, not spat out.

This is an interesting tape. Whilst it doesn't constantly enthral the ear, there are sections - particularly the more minimal passages - which are quite spellbinding. This isn't to say the other parts of the tape are unengaging, mind; though possibly the 4-track recording doesn't do the more active, built-up sections full justice - whereas, conversely, I think it aids the more "droning" parts. But, even where the ear wanders slightly, the fact that so few (if any) "instruments" can be detected makes it an interesting listen. Its a very healthy and inspiring approach to take, and one which encourages greater effort and innovation on the part of the artist. The best example of this being "5", which sees Daller constructing a swaggering funk that brings to mind the work of no-one else but Akufen. "The Tirehouse Tapes Vol.2" will be something to watch out for.






Martin P