GAAAN - Level 5 [GAN - 2012]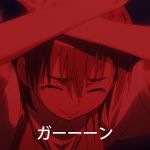 GAAAN is a mysterious HNW collective that brings together members from both Europe & the USA. The project themes all of it's releases around anime, and "Level Five" is project first full length release- it comes in the form of a CDR that offers up just over 70 minutes of taut

This release is themed around Toaru Kagaku no Railgun- which was an sc-fi, action & comedy Anime series that run for 24 episodes between mid 2009 to early 2010. The series detailed a futuristic metropolis called Academy City- it's a highly developed place in terms of technology, which is said to be 20 to 30 years ahead of the rest of the world. Eighty percent of its 2.3 million residents are students. The focus of studies here is directed towards esper powers. Misaka Mikoto, one of the top level espers in town, shares a room with Kuroko Shirai, another high level esper who is a member of Judgement, a law enforcing agency composed of students. Both attend to Tokiwadai, a private school reserved for the high-leveled and the rich. Kuroko's partner at Judgement, Kazari Uiharu, is a low level esper who studies at Sakugawa middle school. Her best friend and classmate there is Ruiko Saten, a level zero (no esper powers). Together, the four encounter several adventures in the exciting scientific town.

The CDR offers up three tracks in all, & each hits around the twenty three to twenty four minute mark. First up we have the title track, and this starts off with a sample from the series which features a female oriental voice talking over some speacker system, and then there's a short sigh. Pretty we're into the 'wall' which is a tightly weaved mesh of jitter 'n' juddering static that mixers together a few mid tone textures. The 'wall' is fairly firm through-out it's full running time, through you do get a few subtle layer shifts from to time. On the whole the tracks ok in it's energetic yet locked vibe, through I did feel it felt a little too long, as each time I played the track my attention started to wane around the mid-way point.

Track number two is kinkily & humorously entitled "The Calming Panties", and once again it starts with a sample- this time it's move brief & just features an comical oriental voice talking over toy piano quirkiness. Then we're into the 'wall' which is a more crusty & purring slice of wall-making, which still feels nicely taut. The 'walls' built around a mid paced low ranged juddering, chugging 'n' hacking texture- through out this main & persistent tone there are sudden bursts of crisp jittering mid tones. The 'wall' stays fairly fixed in it's structure through-out it's length, through the sudden & rapid burst of off -one texturing keeps things nice & edgy. The only real shift is in it's last five or six minute when the 'wall' seems to start to slow/ drag like it's slowly collapsing and winding down into it's self- this is a splendid development & makes a great end to the track. This track is much more enjoyable & hypnotic compared with the first track, and it keeps your attention locked in from beginning till it's end.

So lastly we have track three which is called "Buy It All", and once more there's another sample oeining up the track- this time it's some chattering & light anime dialogue between two characters, then fairly soon the 'wall' pushers in. This track starts off with a meaty 'n' rumbling buzzing judder as it's main focus, and beneath this are some nice slightly different paced shifting textures- this creates this great feeling of movement, yet at the same time this is a dense & unbreakable 'wall'. As the track goes on it remains fairly meaty 'n' dense, but the main texture seems become a bit more drilling in it's feel coming off a mixture of deep roasting 'n' boring mass.


So to sum up "Level 5" is a rewarding enough opening release from this new project with all three 'walls' having something to offer. It's good to see another HNW project themed around anime to join the likes of the excellent Fan Service project, and I'll be interested to hear GAAAN's future releases.






Roger Batty