Karkastix - Sacro Perditio [anarchofreaksproduction - 2011]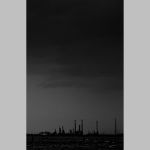 Karkastix is a one-man Italian noise project who makes an intense and ear ringing mixture of sustained noise pitch investigations and electro fired Harsh walled noise. "Sacro Perditio" is the second release from the project, and it offers up a 3ich cdr release that features three untitled tracks.

The first track comes in at just under five minutes, but boy does it make an impression on ones head and ears!. The tracks built around a thick and focused mid-pitched electro noise tone that judders slightly, and the tone literal drills into your head for five minutes, leaving your ears at the end of of the track still buzzing and smarting. Then we drop into track two which is the longest of the three tracks here coming in at just over the thirteen minute mark. This track is built around a rapid and violent juddering 'n' jittering 'wall' of billowing and roaring noise, the 'wall' has a really nice, urgent and relentless feel to it and it nicely pins you down in a raging yet hypnotic manner for it's full running time. Lastly we have the third track which is the baby of the bunch and comes in at just over the minute and a half mark. This is track built around a very aggravated and intense drilling judder and higher pitched electro jittering tones- the track really does mangle and grate you head and ears in great electronic malfunctioning manner

As always with this highly consistent French HNW label the artwork's very effective and moody with the 3inch cdr case featuring a black and white picture of a distant industrial complex or city scape.

"Sacro Perditio" is a very well conceived and sequenced series of three tracks that sits somewhere between HNW & seared electro texturing. This release is sure to leave your ears ringing and your head buzzing, but it will also bring brutal pleasure in it's textural intensity and moorish wall making.






Roger Batty