Lasse Marhaug - Beauty Without Mercy [Utech Records - 2010]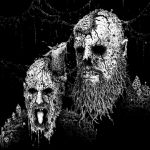 "Beauty Without Mercy" finds Norwegian noise-head Lasse Marhaug in a less noisy and more atmospheric mood, as he offers up here a single twenty one minute track that's best described as a doomed ritual drone matter

The track opens very slowly and subtly with this really spaced-out doomed string twang; which is either low strung bass or lower piano string pick- after each pick the twang is left to slowly fade out and creepyly die into silence. Marhaug uses this silence very well to build up this great feeling of growing dread and horror. As the track moves on towards it's seven minute mark, the doomed twangs or picks start to come more regularly just as the sustained tones have faded. By just after the ten minute mark a sinister and swirling drone dwell comes into play that sounds like it's originated from brass instrument of some form. As the track goes on Marhaug adds in more subtle and sinister details, like this dragging horn like dirge 'n' swirl that brings to mind a slow down and wonky take on early Resident's jazz noise. He really builds the piece up to a nice nightmarish crescendo- yet it still remains fairly stripped and bleak, never reallytotally losing it's original brooding bare bone intensity.


I'm not sure how fans of Marhaug more normal noisy work will get on with this, but if you enjoy very slow and building sinister sound scapes that have doom and even slight modern classical learning's to them this could well be for you.






Roger Batty