Various Artists - Colorfield Variations(dvd) [Line/12K - 2009]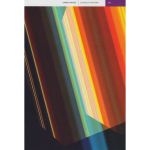 In 2007, Washington Project for the Arts invited renowned sound artist Richard Chartier to curate a program of contemporary audio visual work celebrating the Color Field movement. Evolved out of abstract expressionism, this East Coast scene of the mid-Twentieth century deliberately avoided symbolism; instead it enveloped the senses with limited yet psychologically powerful tools of pure colour and texture. Colorfield Variations collects six works commissioned for the event on DVD, forging clear links between the birth of minimalism and today's digital installations.

Such links are most apparent in both the preparation and execution of the opening piece, 'Dark Over Light Earth', an excerpt from Steve Roden's work based on eight paintings by Mark Rothko. It was formed through a combination of conceptual and indeterminate processes rooted in the experiments in composition that were emerging at the same time (and place) as abstract expressionism. In fact, Roden gave one such composition - Morton Feldman's Rothko Chapel, also inspired by Rothko - to violinist Jacob Danzinger to improvise over without rehearsal. Separately, Roden created a score based on the colours in the paintings which he then played on harmonium and later combined with Danzinger's single take. For the visual accompaniment, the score of colours was used again, this time manifested through house paint swatches from the 1940s. The results of all this post-modern alchemy emphasises the more spiritual side of Rothko's otherwise pure abstraction while joining him in avoiding the figurative (as did Feldman's original piece). The violin divides its attention between tenderly plucked droplets and long streams that gently unfurl to cast calm, meditative tones over the brief but regular rhythmic bubbles of harmonium, accompanied by pale reds and light browns gently dissolving into each other on screen. Unlike some of the computer-generated contributions, each colour that fills the screen is never uniform – some have a shadow at the edge, others are faintly speckled with dust - adding a real, physical texture similar to those yielded through a closer inspection of Rothko's canvases.

Rothko also forms the backbone to Alan Callander's 'CF01', whose colour palette is meticulously derived from the painter's work and displayed on blocks that smoothly slide through each other, striking many varied degrees of contrast on their way. The movement accelerates creating a fluttering accompaniment to gently wavering sine tones that glide synchronously as their harmonics form natural pulses interrupted by the occasional crystal chink.

A similar but more rapid approach is given to 'Orange was the color of her dress' by Stephan Mathieu, who displays his choice of colours full screen creating an intense flickering effect that only subsides when darker shades meet towards the end. The soundtrack is a rich orchestral drone drawn from processed shortwave radio signals that take on the qualities of bowed glass. Its swirling layers emerge as a majestic yet serene procession in stark contrast to Mathieu's stroboscopic rainbow, leaving ambivalence in its wake.

The sonar blips and digital breeze conjured by Tez (Maurizio Martinucci) on 'CF #1~2n' are completely in step with its shadowy waveforms plotted on screen. This showcases how his generative software is programmed to react in real-time to audio, bringing a new technological dimension to last century's abstractions. But the murky shapes and contrasts achieved by these digital processes remain cold and alien, lacking the human translations afforded by the colourful language of the Color Field movement.

Conversely, 'Chronomanic Redux's is an affecting, emotive achievement wholly aligned with color field abstraction yet also evoking ancient ceremony through modern digital experimentation. Here, Chris Carter and Cosey Fanni Tutti take a solemn, contemplative journey back to the sounds and images from 1994's Library of Sound Edition 2 which was concerned with the focussed power on specific dates of specific festivals. This triumphant ritual uses deep hues embedded with organic, shadowy grains, which eventually become constantly moving lattices of layered colour. The visuals are expertly blended with immersive, tranquilising sounds of cavernous atmospherics and icy chimes to truly spellbinding effect.

The final piece offered here specifically created for Colorfield Variations, 'Flirting 07121602' by Sawako, takes color data from a painting by Helen Frankenthaler to plot sketchy, digital shapes that shuffle about the centre of the screen leaving jagged trails in their wake while a high pitched tone, just within the limits of hearing, shimmers until a lower shortwave signal vibrates gently in its path. Like Tez's earlier contribution, the explicit computerizations of the video is alienating, requiring sight of the original painting to better understand its nature.

The disk also features seven pre-existing pieces chosen by Chartier that complement the program to varying degrees: Frank Bretschneider achieves a cool hybrid of color field and glitchy oscilloscopic animation, while Tina Franks' dizzying geometrical jam with General Magic is like being inside a fairground ride based on the work of Gene Davis. Most extraordinary (and possibly the most remote from color field principles) is Evelina Domnitch and Dimitry Gelfand's 'Ten Thousand Peacock Feathers in Foaming Acid' which reveals the graceful, microscopic dance of soap bubble molecules under laser light.

While home viewing is not able to match the scale that the work of the Color Field movement often relied upon, the DVD makes available a diverse and highly stimulating array of contemporary international audio visual work that is otherwise confined to city galleries scattered across the globe. By shining a new light on a radical chapter of art history, Colorfield Variations also illuminates today's often opaque sound art, adding a new dimension to our understanding and appreciation of its abstract experimentation.






Russell Cuzner