Baktruppen - 1986-2008(boxset) [+3DB Records - 2009]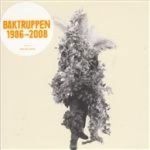 Baktruppen are a puzzling, sometimes challenging, but always rewarding performance art theatre group & experimental music collective from Norway. The project has been active since 1986 with quite a few shifts & changes in their line-up over the years; but they've always stayed truly weird, challenging, but ultimately very worthwhile in their sonic & visual outlook.

This three disc set is something of a crazed, noisy & creative sonic scrapbook of their many performances from over their twenty plus year in existence & it covers an awful lot of sonic ground from: surreal play acting, bizarre speeches to random weird banter, through to avant classical & electronic improv, general playful noise making, proto industrial weirdly seared jazz scapes, low-slung da da rock grooves, weird electro acoustic sound scaping littered with field recording elements, off-kitter european Theatrical musical numbers that sound like a less sneering & controlled versions of the later day work of The Residents. Tripped-out electroinca beat scapes moving with oddness, drifting choral & ambience darted with weird voices & sounds, and general quirky noise making, bizarre & unhinged field recording strangeness….and really anything thing & every thing they fancy throwing at you. The tracks through-out the three cd's last between just under the minute mark to five or six minute mark a piece & really the whole thing is akin to an bizarre sonic chocolate box as you really don't know what to expect next.

The discs come with a twenty page booklet which features pictures of the collectives many strange & weird performances, details of where each track comes from, and current members & past members. It's nicely done enough booklet through it's a pity there couldn't have been a essay or interviews with the projects key figures on the bands origins, their shifting membership & their general out look on their performance art & sound making. It's also a pity one of the disc here couldn't have been a DVD of some of their performance theatre work as it looks very weird & intriguing from the stills on offer in the booklet.

All told the box sets a very enjoyable, quirky, strange noisy & playful ride through-out & it gives you some wonderfully bizarre, unhinged & very enjoyable sonic snapshots of this sonically & visually creative collective. It's just a pity that the visual side is only vaguely touched on here.






Roger Batty