Necro - Gory Days [Psycho+Logical - 2001]You don't have to look in the death metal / grind core genres for gore lyrics. Necro's "Gory Days", as the title indicates, contains the same sickening texts one could find on album from for example Exhumed and Mortician. But the music is entirely different. The New York based hip hop lyricist and producer actually grew up with metal bands such as Carcass, Destruction, Pestilence, etc. so it is obvious where his lyrical influences come from. "Gory Days" is the follow-up to his first work "I Need Drugs", but he has been known before because of his work as producer with other artists, like Al Tariq, Non Phixion and Cage. He began officially releasing his own work in 1996, starting with the single "Get On Your Knees", already introducing shocking lyrics. Besides that he made some short movies that you really don't want to watch with your girlfriend next to you... Because of the censorship in the major music industry he was more or less forced to bring his releases out on his own label, Psycho+Logical Records, which is now a fully professional company.Musically speaking this is simple hardcore hip hop, straightforward but solid beats, which generate a firm basis for the rhymes. Besides the hard yet sometimes very relaxing beats other instruments fill in the empty spaces. Mostly this is a piano, playing sombre background melodies, but he also combines this with other instruments. Take for instance "Poetry In The Street" (where he teams up with his brother Ill Bill) with nice strings, or the funky title track with a saxophone. The material on "Gory Days" has enough variation; the more bumpable bass line driven songs are alternated with more laid-back productions or funky things as mentioned previously.But what is most notable about this release are of course the lyrics. One can doubt that Necro is really a sick guy, only bringing forth these lyrics for the shocking value. But he does it good, and has obviously done some research too; in the song "Dead Body Disposal" we are given advice how to get rid of a dead body before getting caught. Nicely using samples from the movie "Snatch" and the hilarious chorus from Salt-N-Pepa's "Let's Talk About Sex" (but slightly different) this track ends up really good. Necro has used more well known tunes on his album, giving them his own sick twist: "Light My Fire" (The Doors) and Biz Markies' classic "Nobody Beats The Biz" (funnily renamed) haven't escaped either. Rhyme wise, Necro is more influenced by rappers such as Kool G. Rap, even though he manages to get an own monosyllabic scheme, y'know...The hardcore hip hop listener should not let this album pass unnoticed. "Gory Days" has really strong tracks, and you really don't have to buy it because of the entertaining lyrics alone. Just one last note if you decide to buy it: don't let your little sister anywhere near this release...






Justin Faase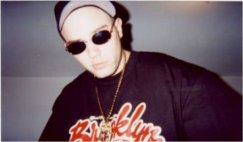 Necro - Gory Days
You don't have to look in the death metal / grind core genres for gore lyrics. Necro's "Gory Days", as the title indicates, contains the same sickening texts...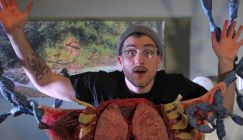 Lucky Cerruti - Of Not so Friendl...
New York-based Lucky Cerruti is one of the up-and-coming directors in the underground horror scene. Since 2019 the theatre actor turned director/ writer/prod...