BiographyDrummer David Murray made a name for himself as the drummer for Californian 'gypsy metal jazz rock fusion' band Estradasphere in which he could apply his love for death and black metal but also new age. 2 years ago, after recording 2 full length CD's and an EP, he left that band. He did a few European festival dates with Daedelus and Busdriver and continued working on his cartoon/concept/music project The Deserts Of Träun. Session work, playing piano on a ballet school and teaching drums and didjiridu keep him occupied when not working on this trilogy.

DiscographyEstradasphere - It's Understood
Estradasphere - The Silent Elk Of Yesterday
Estradasphere - Buck Fever
Dave Murray - The Deserts Of Träun: Part III The Lilac Moon




- - In Tenebris Scriptus - A dark aural tribute to H

The name of Howard Phillips Lovecraft is firmly inscribed in the mass culture. The works of the great writer, the inventor of the Necronomicon and the Cthulhu Mythos, inspire filmmakers, artists, and musicians. It is difficult to say how many musical groups appealed to the work of Lovecraft and how many tributes have been made.


- Theory Of Obscurity: A Film About The Residents

Here we have the DVD/Blue-ray release of Theory of Obscurity- the rather wonderful & justifiable praised/ celebrated documentary about the mysterious sound & art collective known as The Residents. And just to clarify I'm reviewing the DVD version of the release- so I'll be discussing the extras etc of this version of the release.


- For Bunita Marcus

I have never enjoyed the music of Morton Feldman. His insistence on total emptiness and dissociated non-structures has never compelled me to attempt to find the meaning some would insist exists in his work. This recording of pianist Lenio Liatsou playing one of Feldman's particularly obscure later works, "For Bunita Marcus", is the first music of Feldman's I have put the time in to carefully examine.


- Whatever Happened to Vileness Fats?/The Census Tak

Here we have a 2014 reissue of two soundtracks from those mysterious sonic eccentrics & quirky genre mixers The Residents. The release takes in two OST from 1984, and they come in the form of Whatever Happened To Vilness Fats? (an edited version of the bands sprawling & never fully released film), and The Census Taker (a low grade black comedy/crime caper).


Murray - Commonwealth

Commonwealth is a single long form piece of hypnotic, captivating and dense drone craft by US sound artist Brendan Murray- this is his forth full length release.


- Die Infektion Der Geburt

Einleitungszeit make dense & overloaded, but always atmospheric and nightmarish mix of; death industrial, noise, power electronics with grim cinematic undertones. This is this Slovakia five piece 24th releases in their 14 year career


- Suicide In Winters Moonlight

I've had a soft spot for Ensepulchred Mix of keyboard heavy almost guitar stripped Black Metal, Horror film synth grimness & electro noise since their excellent debut album in 06- So it's a really treat to have another hit from them so soon.


- Descension

Descension is Aluk Todolo debut full length after a highly praised 7 inch and what a debut this is. For 37 minutes you tumbled through, get hypnotised and brutalised by this nightmarish, lo-fi , head-ripping and psychedelic black mind fuck.


- Submerged

Submerged is Phaenon (one Szymon Tankiewicz) opening shot of deep, heavy, and expansive dark ambience that as the title suggests is akin to being submerged into an vast underground space or falling down an endless tunnel.


- Outre'

Outre is a death metal nightmare with very gothic, Grand Guignol like & darkly theatrical surreal tendencies that bob like a headless corpse to the top of the audio water ever so often.


- Astral Orange Sunshine

Astral Orange Sunshine brings together four spacey and swirling electronic unfolds with a Merzbow favourite the EMS Synthi as the main sound generator here, but this for the most part stays noise free- with only the last track diving into noise matter towards it's middle.


- A History Of Time to come

Following on from the reissue of Sabbat's second album, this their debut album gets similar treatment. With an extended booklet featuring old flyers/artwork and interviews ect,and extra tracks coming in the form of live version of four tracks from the album.


- Collection

Collection brings together a 7inch split between Wiese and wolf eyes, along with the tow very ltd American tapes cdr from 2003/04. All digitally re-mastered by Wiese in colour inlay from the original artwork. More than just a fan curiosity, this stands as some of both parties best work as collaborators and solo entities.


Estradasphere - Palace Of Mirrors

A strange phenomenon happened with Palace Of Mirrors, the fourth album by Estradasphere. While being the 'coming-off-age' album of the band and objectively speaking the most accomplished album to date I didn't get into it immediately while in theory this should've been the case.


- Super Roots 3

Super roots 3 is the next in the series of reissues of The Boredoms experimental ep's from 1994 to 1999 on the Very Friendly label. This like the others in the series was a experiment in different sound, that didn't really fit in with things they were doing at the time.


- Human Animal

Human animal sees Wolf eyes taking a more atmospheric and dread filled take on their sound; making an album that's full of shadowy shades and tints of blood reds. Where their last full length release on Sub pop Burned mind, felt like a brutal and crazed audio hammer attack with slight breathers. Human Animal feels like been caught in some hellish dungeon unsure what lies in wait for you or possible awaking tied to a table unsure how you got here and all you can smell is blood and decay.


- Recorder out of tune

Recorder out of tune is a collection of shudder inducing nightmarish audio hiccups, gruelling stretches of bile inducing sound and sour tones. Which will have you teetering on the edge of sanity and sickness; this is prime noise for unhinging minds.


- Turmeric

This is harsh, even by Merzbow standards. All the safety nets like beats, melody and structure, staying in one places for anytime, have all but gone and we are left with a black encrusted grimy beast of an album.That from it's first attack doesn't , let go of your head and throat until near on 4 hours later.


Estradasphere - Passion For Life

It has been in the works for quite some time but here it is: the first Estradasphere DVD. It got even better because it's a double-disc with a live-CD too. Where the vhs Days Of Our Lives marked Esphere Phaze 1 were Dave Murray was still in the band, Passion For Life marks Phaze 2 where John Whooley is still in and Dave makes some returns as a sessiondrummer along with Theo Mordey.


Estradasphere - Quadropus

Originally planned for a september 2002 release, well over a year later, Estradasphere finally released their 3rd opus: Quadropus. With the drummer-'problem' still unsolved the now quartet got help from former drummer Dave Murray and Theo Mordey.


Murray - The Deserts Of Träun: Part III The Lilac Moon

"This is the music to a story yet 'untold' – told by the music." Instrumental music that tells a story. Some people might think that it is impossible to pull that off without lyrics. Former Estradasphere-drummer thinks different, his first release The Deserts Of Träun, part 3 of a trilogy, tells a story by using any kind of music to 'describe' various happenings.


Estradasphere - It's Understood

"It's Understood" is the debut album from the band Estradasphere, the five crazy musicians from Santa Cruz, California.


Estradasphere - Buck Fever

Wow! My whole CD collection on one CD! Now this is a space-saving alternative for the open-minded musiclover! Estradasphere might even be the most diverse band in existence.


Estradasphere - The Silent Elk Of Yesterday

As a taster for the Buck Fever album (scheduled for September 2001), Estradasphere released this 73 minute EP with four songs from the album and a bunch of liverecordings.



Dave Murray - A translucent, transplanetary elevator to explore musical horizons

Former Estradasphere drummer David Murray didn't sit down and do nothing after he left the Santa Cruz outfit.


Estradasphere - The Dapper Bandits

One of the greatest bands to emerge from the USA lately is Estradasphere. All the records have been reviewed on our site so one can read about those in our reviews section.



Dave Murray - Escape From The Crystal Caverns

It's virtually impossible to find a track that represents everything that's going on on The Deserts Of Träun. In this track, Escape from the Crystal Caverns, life prevails upon the protagonist who seeps through the ceiling of a subterranean crystal cavern.


Estradasphere - Promo Medley

Your whole CD collection on one CD! Now this is a space-saving alternative for the open-minded musiclover! Estradasphere might even be the most diverse band in existence.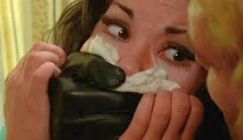 The Strange Vice Of Mrs. Ward - T...
In recent years The Strange Vice Of Mrs. Ward has come to be seen as one of the top tier Italian giallo films- up there with some of Argento & Fulci's cl...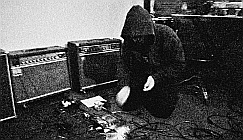 Perpetual Abjection & Unsignifie...
There has always been a close connection between the walled noise scene, and various themes/ obsessions- be it nihilism, giallo/ cult films, true crime, grim...