Estradasphere - Palace Of Mirrors [The End - 2006]A strange phenomenon happened with Palace Of Mirrors, the fourth album by Estradasphere. While being the 'coming-off-age' album of the band and objectively speaking the most accomplished album to date I didn't get into it immediately while in theory this should've been the case. The 'genre-hopping' band from Santa Cruz has moved from the Mimicry imprint who decided to smaller but better things. They found a new home at The End, who seem to be signing every 'Bungle-esque' band out there at the moment, while Estradasphere themselves seem to drift away from that area. I wouldn't go as far to put this on the same level as Mr. Bungle's Disco Volante, but Palace Of Mirrors does rise above the 'look-what-crazy-styles-we-can-play' approach. Funny, because they master the chosen styles better than ever, especially violinist Timb Harris has clearly worked on his ornamentation. When he plays a Romanian tune, like in Smuggled Mutation, he actually plays it like a Romanian. While never been anything less than a virtuose violinist this is just an added icing on the cake. The big difference from Mr. Bungle is that Estradasphere is fun and not as disturbing as Bungle at their best would get.There have been some personnelchanges: a shamisen-player by the name of Kevin and finally a drummer called Lee. Also Adam has joined the original members Jason, Tim and Timb to play accordion (and other keyboards I assume). I have no idea on who else plays on the record (I heard some instruments that aren't played by these members as far as I know) as that info is omitted on my promo. I can understand the idea of saving on that which is handed out freely, but you'd think writers of reviews need specifically need that kind of info. But anyway, it's not that important, the endresult is. And that endresult is, although ridiculously diverse, still coherent. Moreso than this album's predecessor Quadropus, this album flows like one trip past many atmospheres. From the bombastic opening theme to the last notes of The Return, there's a story without words being told. Without words indeed as this is a fully instrumental album. Many ingredients are known (gypsy, jazz, funk, metal etc), but performed more focused than ever. The sixpiece manages to keep the qualitylevel constant and high.So why did it take so long to get into this album? I'm not sure, I've been following this band since their first and always liked them a lot, but somehow I didn't play it too much once I got it. Luckily the spark came back recently. Maybe I was distracted a bit over the last couple of months, but it might also be a grower while I didn't expect it as I've known the band for some time now. This combines the qualities the first three albums: the fun of the first, the sense of unity of the second and the productionvalues of the third, so the final verdict is once again very positive.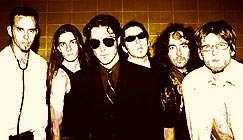 Estradasphere - Palace Of Mirrors
A strange phenomenon happened with Palace Of Mirrors, the fourth album by Estradasphere. While being the 'coming-off-age' album of the band and objectively s...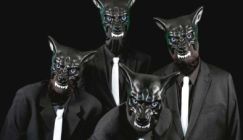 The Residents - Old Dog's Still S...
Many bands/projects in their later years ease back on the sonic gas- be it slow down, mellow-out, or water down their sound. But that's certainly not the cas...