Fly Pan Am - Frontera [Constellation Records - 2021]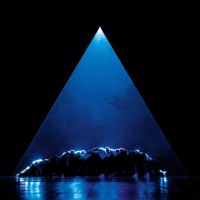 Fly Pan Am are a new name to me, and as such, I was interested to hear what they sound like. The few bits and pieces of information I could find about them sounded interesting, and the fact they played shows early on in the career with the likes of Godspeed You Black Emperor was always going to be a good selling point for me. In fact, guitarist Roger Tellier-Craig was in both bands until 2003 when he quit Godspeed You Black Emperor to concentrate on Fly pan Am. They were originally formed in Montreal in 1996, generating the sort of experimental post-rock sounds that proved popular during the 90s and 00s. After four full-length albums, the band split in 2005. Only to reform in 2018. Frontera is their second album since their return and was originally written as the soundtrack to a performance piece of the same name by Dana Gingras and her Montréal-based dance troupe Animals of Distinction. The band's current lineup features Jonathan Parant and Roger Tellier-Craig on guitar and synthesizers, Jean-Sébastien Truchy on computer, synthesizers, drum programming, bass and vocals and Félix Morel on drums and percussion.
Designed to be performed live as the soundtrack to Frontera- a contemporary dance piece by Animals of Distinction, it becomes evident from quite early on that the album works well on its own merits. Opening track "Grid/Wall" gets things underway quite nicely, after a repetitive opening the track soon starts to build as drones are guitars are added to the mix, helping to create an ever-changing sonic landscape that veers from almost ambient drone to dissonant rock within a few bars. "Parkour" is up next, the motorik beats remain, however, this track is much more guitar-led, borrowing from the sound of early era post-punk pioneers like Bauhaus and Joy Division, whilst preserving their own unique sound. This one features some really harsh black metal style vocals from Jean-Sébastien Truchy. "Scanner" is up next, a short ambient slice of wyrd electronica that sounds like it belongs on the soundtrack of an avant-garde sci-fi movie. "Scaling", takes this theme and runs with it, sounding like some sort of weird amalgamation of the soundtracks to Alien and The Thing as if they were recorded by Throbbing Gristle. After an opening that features a repetitive field recording of a train "Parkour 2" builds into a fairly dissonant guitar rock track but preserves that driving motorilk rhythm throughout. "Body Pressure" is a short atmospheric track that leads directly into Fences, a typically repetitive sounding industrial number that is also quite short and really does just kind of get going by the point at which it finishes. The album closer "Frontier" has a sinister horror movie vibe to it, its slow build and eerie atmosphere recall the work of Sunn O))) and bands of their ilk.
Overall, Frontera is an excellent album that mixes horror movie atmospherics, with kosmische beats and noisy post-rock guitars, and whilst it was written and recorded as a companion piece for a contemporary dance performance it works perfectly as a standalone album too. The album comes nicely packaged in a gatefold sleeve with a superbly designed booklet. The only problem I have now is that I'd quite like to see the accompanying performance that it was written to complement.






Darren Charles