Red Kosmo - Stronger Than Time [Void Singularity Recordings - 2019]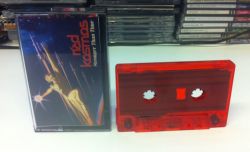 Red Kosmo is a newish venture from respected Russian noise artists/wall noise-maker Sergey Pakhomov- with this project he brings together heroic-to- space-bound retro synth craft, with weathered maps of walled noise texturing. This first release from the project comes in the form of a C80 tape, or digital download- with each side feature a single forty-minute track.

The smoked orange cassette is presented in the fairly colorfull sleeve, which features old Russian art of a golden humanoid figure lunching into space along side a line of rockets. This release has an edition of twenty copies- and as of writing this review the label still has copies.

The tracks are simply entitled "Stronger Than Time parts 1 & 2", and each bring together old school synth/ organ sounds & low key static texturing. So "Part 1" begins with just chopping 'n' knocking synth tones, and these are fairly soon replaced by a slowing twisting 'n' turn synth tones which sounds like an old style organ. Fairly soon the noise texturing elements are added to the track, and these are basically a blend of rapid & galloping rock-like draging/ hacking- the organ feels both spiraling, grand & from to time like an old theatre/cinema keyboarding. Throughout much of this track Pakhomov keeps a keen & defined melody to the synth, it's only towards the end you get less harmonic & more star bound.

Filliping over, and we, of course, have "Part 2 " – this starts off a lot more abstract, spacey & burbling in its feel- though fairly soon we get a nice blend of more simmering-to-played notation- it all feels a lot more random/ wondering compared to the first side- with the fairly heroic melody replaced by more forlorn sweeps & hovers of harmony. Fairly soon the textured noise elements come into play, and these are a blend hacking rips and thinner static skips. As we move on the synth elements become more abstract, dart & shifting- moving more and more away from the set firm patterns of the first track. Though the growing forlorn melodies do resurface once again, and with this the noise textures shift to more rapid blends of hacks, judders, and constant jumping rips- these are nicely added to & enhanced by more choppy 'n' swirling synth tones

Stronger Than Time is a great opening release from this project- with Pakhomov creating a most original & distinctive mixture of a blend of synth 'n' noise texturing- making this one of the standout crossover moments of the year. I very much look forward to seeing what he does next with this project!






Roger Batty