Megadeth - Endgame(reissue) [BMG - 2019]After to the hints & slight returns to more focused Thrash sound on their previous album United Abominations, 2009's Endgame saw Megadeath well & truly returning their past speed-metal and thrash stylings, but with the addition virtuoso and technical edges - to offer one of their most punchy & urgent records in many years. As part of BMG reissues of early-mid 2000s albums from Megadeth here's a reissue of the album- which comes as either a CD or Vinyl version of the album. As with the other reissues in this series, Endgame has been given the full emastered treatment by respected producer Ted Jensen (Guns N' Roses, Mastodon, Machine Head, and Trivium). This gives the albums often speeding, & at times fairly breakneck flow even more grit & power, as well as adding in more instrumental definition and clarity to the whole thing.

As mentioned in my introduction the reissue comes as either a CD or Vinyl release- the CD is presented in the form of a glossy digipak, with color sixteen-page inlay booklet- here we find full lyrics, line-up pictures, and full credits. There are seemingly no new liner notes/ images, as far as I can tell- but it all looks plush enough. The vinyl, here available for the first time in ten years, features 180G black vinyl- this is presented in a glossy gatefold sleeve. The cover artwork on this album is a little detailed and arty than some Megadeth releases- featuring on it's front cover lines of marching prison boiled suited figures, with bar codes on their neck- this is finished off by a frame of feasting flies- so simple yet bleakly direct cover, which still looks good in the larger LP format.

The album kicks off with the high edgy instrumental track "Dialectic Chaos" which brings together a slamming 'n' bouncing riff with flowing lines of virtuoso guitar soloing. Next, we roll straight into "The Day We Fight"- which finds galloping & careering speed metal guitars, clashing and bonding drum work, and Mr. Mustaine sounding very pumped-up and speeding with his delivery- very much bringing to mind one of the more rapid moments from So Far So Good, So What. Track number six is "Bodies" and here we get a great urgent stop/ start chugging riff, and Mustaine wailing 'I've waited far too long'- this track also features a great spiral solo break down, featuring some almost Maiden like guitar harmonics. The most speeding 'n' nasty track is "Headcrasher" which finds an absolute bounding chorus, and in the verse, you have Mustaine brutally intoning lines like 'get on your knees & get ready for the head crusher' all sounding like a more virtuoso take on their early speed locked work. Though-out the whole of Endgame the riffs are certainly sharp, crunchy and memorable- with each having that distinctive Megadeth edge- yet it all feels fresh, powerful, and meaty- all making for a barnstorming forty four minute album.

The extra/ bonus track is a live recording of "Washington Is Next"- which was one of the highlights from the bands previous album 2007 United Abominations- it's good to hear this in a live setting, through the mix is a little muddled and uneven- with a points the drums over-taking the guitars in the mix in a fairly sloppy manner- though we do get a great and searing solo break down.


Endgame is often listed as been in the top five Megadeth albums- and it's certainly easy to see why, as pretty much the whole album finds the band in top speeding, yet memorable form- all wrapped in some seriously wonderful soloing guitar work, which enhances-yet-never overruns the songs. If you never brought an album from the band, and are looking for one of their more rapid- yet still accomplished and consistent records- I can certainly highly recommend Endgame, and this effective new remastering makes a great punchy record even more so.






Roger Batty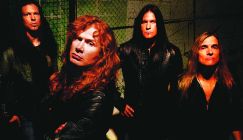 Megadeth - Endgame(reissue)
After to the hints & slight returns to more focused Thrash sound on their previous album United Abominations, 2009's Endgame saw Megadeath well&nbsp...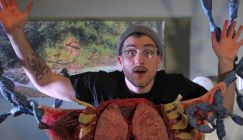 Lucky Cerruti - Of Not so Friendl...
New York-based Lucky Cerruti is one of the up-and-coming directors in the underground horror scene. Since 2019 the theatre actor turned director/ writer/prod...