Alexandros Anesiadis - Crossover The Edge- Where Hardcore, Punk And Metal [Cherry Red Books - 2019]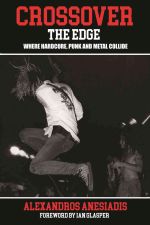 For a period of time in the late 1980's my twin musical obsessions where Hard Core Punk( mainly American), and Thrash- so, of course, I had a great interest in where these two genres met- Crossover. Here from Cherry Red Books is a new, nearing five hundred and fifty- page book on the subject- and it certainly was a fascinating trip down memory line, with more than a revelations along the - as the book covers a lot of acts I'd never even heard of.

The book is presented in the form of a perfect-bound paperback- this takes in a mixture of texts, band photos, album covers, posters, zine artwork, etc. The main of the book is set out in of six chapters- each of these covers a region/ area- so it begins USA East Coast, then Middle America, West Coast. Before moving on to Canada, the UK and the rest of the world. The last two chapters are Bands with Crossover Appeal, and But Waits there's more- which covers bands before 1989. With the book been topped off with more poster artwork, a selection of best of record lists, and an afterword discussing how the genres of Punk & metal effected & influenced each other beyond & above firm Crossover. Each of the chapters are broken up into sections about each of the bands in said region/area- these feature a rundown of the band's history/ background as well as a brief critic of the bands releases, recent interviews with band members, and what to pick-up from the band. Each of these sections run between a page & six pages.

The books written by Greek-now-living-in-Luton Alexandros Anesiadis- who is a long term fan of Crossover, Punk & metal to a lesser extent. So the book is very much written from a more Punk/ HC Punk point of view- this has it's plus & negative sides- as he clearly very authoritative about one side of the coin( so to speak), but less so on the other. So depending on what side you come from & what your leanings are- you could be impressed or a little disappointed. He writes in a fairly passionate & animated manner- though his critique/ analysis of albums do often come off a little slight and surface. I know he clearly couldn't write in-depth on each & every release discussed- but it would have nice to have seen him gone deeper on key & definitive crossover albums, instead of the just over a paragraph or less we get.

Criticism aside there's certainly been a lot of time & effort put into tracking down band members, collecting flyers/ poster artwork( which came via eBay), and writing up about the 100s of bands covered with-in. And as I mentioned in my introduction there were more than a few revelations- as round 30%-to-40% of the bands I wasn't aware of- so that got me searching & playing stuff on youtube- then looking at albums to purchase.

So in conclusion, if you like me were a fan of either Hardcore punk, and or metal in the 1980's I'd say this is worth picking up, equally if you enjoy reading about how genres collide, and the up & downs of this- it's worth pick-up. Though If your looking for a wholly balanced & more detailed look at how/ why the two forms met, as well as detailed analyzing of the key albums- you may well be disappointed…I guess once again it's down to what you coming into the book for, as well of course which of the two genres that crossover you are most interested in.






Roger Batty