Der Blutharsch and the Infinite Church o - Wish I Weren't Here [WKR - 2019]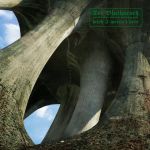 Der Blutharsch and the Infinite Church of the Leading Hand are the chief musical project of Albin Julius the Austrian musician who is known for his work with The Moon Lay Hidden Beneath a Cloud and Death in June to name but two of the bands with whom he has played. Originally spawned as a side project, Der Blutharsch took on greater significance for Julius, once the debut self-titled release was issued on a very limited-edition picture disc in 1996. Ranging from dark ambient, and industrial to a more rock-based sound the band have diversified greatly over the years, and from starting out as Julius's solo project they now appear to be a full band. Joining Julius on keys are guitarists Bain Wolfkind and Jörg Buchmüller, and drummer Marthynna. Julius has at times flirted with far-right imagery, however, for this review I shall attempt to put all politics to one side and concentrate purely on the music.

The album opener Evil is a monolithically slow, slab of psychedelic doom with some fairly discordant female vocals and a real hypnotic groove that gets under the skin. This is followed up by the album's title track, Wish I Weren't Here. An electronic drum beat forms the bedrock of the track, which is then layered up with various electronic sounds and FX led guitar tracks, with a spoken word vocal track over the top. A pulsing, psychedelic behemoth of a track that takes the listener into pretty dark territory. The track has a real menace, that is prevalent across the album as a whole. All One is up next and this once again fulfils that hypnotic vibe that the whole album is infused with. This one does highlight Julius's industrial past a little more than the other tracks, and features some pretty cool sounding electronica. Make Me See the Light opens with a riff to die for, this psychedelic rocker is packed with some great liquid guitar work and wonderfully trippy off kilter vocals that give it a strangely compelling quality. There may be a hint of classic krautrock about this one and even a dash of Spacemen 3 era space rock for good measure, this is certainly one of the more interesting tracks on the album.


After the fairly average sounding (for this album at least) Just Because I Can, My Soul Rests Low comes across like a mad Velvet Underground with Nico on vocals. This is probably the most experimental track on the album, a veritable smorgasbord of influences from the aforementioned Velvets, as well as The Doors and The Beatles circa Revolution 9. Forgotten is up next and represents a different side to the band's sound, a high-octane slab of primal psychedelic rock n roll with a driving electronic beat at its black heart. He is Here, ploughs a similar furrow before we reach the album's closer A Lord. This is a master class in psychedelic rock…tripped out, with a hypnotic beat, and vocal chants all of which makes for an interesting listen. The song finishes midway through the track and after a brief silence another song plays. Less than two minutes in length it is an interesting little instrumental bonus track to bring the album to a close.


Overall the music is diverse, interesting, and very well played. The band are heading into similar territory to bands like Crippled Black Phoenix, undertaking a modern psychedelic sound, and it works well. Make Me See the Light, My Soul Rests Low and A Lord represent the standout tracks for me, but all of the music is pretty interesting.






Darren Charles