Mogwai - Rock Action [Pias - 2001]With a title like "Rock Action" you will probably expect some rock and action. Yet Mogwaiís third album isnít full of action nor does it really "rock". But a term like ambient-space-post-rock or something like that isnít suitable either, according to the band. The Glasgow based band prefer to call it simply "rock music", but I guess these two words wouldnít be sufficient for a review...To describe this experimental music is hard, but mentioning a band that takes the same musical direction is a lot easier: Godspeed You Black Emperor! is obviously the closest one. Slowely paced guitar-driven soundscapes, build with background instruments like violins reaching a crescendo. On this new album Mogwai goes further than that, tough. Diverse elements such as banjos are incorporated in the complex music, and singer Gruff Rhys from the Super Furry Animals doing the vocals. I feel this is a somewhat new approach for Mogwai, considering the fact that the previous albums were more straight to the point in structure and melody. Because of that, "Rock Action" demands more time from the listener to dig into this album. But in the end, those kind of releases are usually the best."Rock Action" takes off with "Sine Wave", one of the noisier tracks of the album. Five minutes of minimalistic guitar drones and some distortion in the background, building towards a climax and a wall of sound at the end of minute four. The following "Take Me Somewhere Nice" is highly appreciated after such an opener, since this track is calm, soft and peaceful. Beautiful sad vocals and carefully placed keybaords complete the picture. "O I Sleep" is not a filler, tough this might seem so because of the short length of the song (56 seconds). The deadpan voice and the warped keyboard loop are both beautiful as excellently executed. The fourth track shows the main difference with GYBE!: the vocals. Our Canadian friends donít use them, withhelding some sampled parts, but in "Dial: Revenge" they play an important part for Mogwai. Supported by acoustic guitars and heavy orchestration this turns out to be one of the better tracks of the album. But that was before we heard "You Donít Know Jesus", the fifth track. The hypnotic droning guitars get harder and harder during the song, before getting calmer again somewhere in the middle of the track, ending in a gorgeous harmonic piece. After a short instrumental track we hear the excellent "2 Rights Make 1 Wrong", which perfectly showcases the diversity of instruments used on this album. Starting with horns and an old-sounding organ, these are joined with strings and great percussion work before suddenly be taken over by banjos and electronic sounds. The eight song "Secret Pint", a piano piece with sombre vocals, ends the album.To conclude this review I can only say that Mogwai have created a masterpiece. "Rock Action" is an album not only to hear, but to experience. Some people might be nagging about the vocals being a too prominent element in the music, but I canít complain, and I know more people find it just fine. The production only confirms that; the whole package is adjusted to find perfect harmony between the instruments and vocals. One of the highlights of 2001 in rock music.






Justin Faase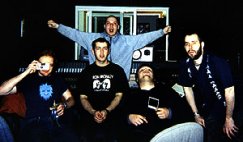 Mogwai - Rock Action
With a title like "Rock Action" you will probably expect some rock and action. Yet Mogwaiís third album isnít full of action nor does it really "rock".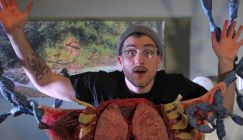 Lucky Cerruti - Of Not so Friendl...
New York-based Lucky Cerruti is one of the up-and-coming directors in the underground horror scene. Since 2019 the theatre actor turned director/ writer/prod...