Hans Zimmer & Benjamin Wallfisch - Blade Runner 2049 [Sony Music - 2017]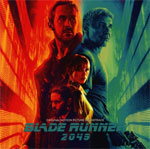 Vangelis' score for the original Blade Runner is not only one of the most iconic film scores of all time but also a landmark in the history of electronic music. There had been many sci-fi scores which made use of electronics before – notably Louis and Bebe Baron's work for The Forbidden Planet – but never such a rich and coherent body of work that complemented so perfectly a film's world creating look. It forever altered how we think sci-fi should sound, just as Ridley Scott's film opened up new territory in visual effects. It influenced popular music and virtually every form of industrial, EBM and synthesiser music which followed. Bearing all this in mind it was no surprise that anticipation for Denis Villeneuve's sequel Blade Runner 2049 included the hope for an equally worthy musical companion.

Initially the signs were good. Fans of the original breathed a sigh of relief at the news that long term Villeneuve collaborator Johann Johannsson had been given the task of scoring the film. Anyone who heard his work for Arrival recognised a composer with a sensitivity and feel for atmosphere that would lend itself well to the Blade Runner universe. Given his pedigree it also seemed unlikely that the results would be a straightforward clone or mere homage to the original 1980s score. Things did not turn out that way however and earlier in the year it was announced that the Icelandic composer had left the team and been replaced by Hans Zimmer and Benjamin Wallfisch. When asked in an interview, Villeneuve stated that late into the production it was felt a change was needed in order to bring the score "closer to Vangelis". Whatever the exact reasons for the departure it should be noted that Johansson has been contractually silenced on the matter.

A film score produced at short notice can only be a step down in terms of depth and originality. Vangelis spent weeks with Ridley Scott in London exploring the themes and mood of his creation, notably sequencing each of his cues to the most minute details of the on screen action. One of his great successes was capturing the film's ostensibly noir atmosphere within an electronic music environment and in doing so produced some of the film's most recognisable themes. From the outset however it's clear Zimmer and Wallfisch have taken a different path. The opening three cues included on this double CD set work almost as a concise summary of the ninety minutes that follow. A reverb drenched tom intoning out of a dark droning soundscape leaves us in no doubt we are back in the dark, polluted world imagined in Philip K Dick's novel; then those unmistakable resonant brassy synth pads that will eternally be associated with the Vangelis score. All these things are familiar recreations. Zimmer first shows himself on Flight to LAPD with that subterranean martial percussion which dominated his score for the Dark Knight Rises. Its distortion and aggressive edge reappears numerous times. Indeed where the soundtrack does veer away from Vangelis it predominantly heads towards Zimmer's overdriven moments for Chris Nolan's films.

The cues for scenes involving the film's secluded genius Niander Wallace offer a slightly different formula. Ominous throat singing and as far as I can tell the only incidence of the use of unprocessed strings on the soundtrack. The rest is fairly derivative dark ambient atmospherics signalling the replicant overlord's dastardliness which has none of the ambiguity of Alden Tyrell. Mesa is a highlight and one of the few cues that make use of non-electronic instruments. A simple impressionistic piano intro gives way to the big brassy synth again before a cascade of atonal electronics and heavily processed orchestral sound. It's pretty noisy in truth and again reminiscent of the Dark Knight Rises. Bass drones which Lustmord would be proud of follow on Someone lived this before the first disk plays out to a brighter finish with Joi. Here the two composers opt for an almost Stars of the Lid type ambience with a lighter more relaxed mood. It's not long though until the clear sky is darkened again with washes of overdriven synth, and throbbing sub-bass. This first disk is only thirty-five minutes long; long enough for the listener to establish that while the sound Zimmer and Wallfisch have created references Vangelis, their engagement is woefully superficial. The original score might be easily recalled by reference to those synth sweeps and ambient pads, but it was in fact an intensely lyrical and varied piece of work. It was also a score of many themes and instrumental combinations. There was the gorgeous choral singing on Rachel's Song, the noir saxophone of the Love Theme and the bluesy keys of Memories of Green and Blade Runner Blues. It was a score with soul and not merely atmosphere. Sadly the second disk of Blade Runner 2049 merely confirms the journeyman job the composers have done here; filling a gap rather than producing anything memorable.

Particularly irksome is that after the opening industrial percussion and dark ambience of Pilot we have three well known popular music tracks slotted artlessly onto the CD in the form of Elvis's Suspicious Minds and Can't Help Falling in Love and Sinatra's One for My baby (and one more for the road). Whatever atmosphere the composers might have succeeded in building up to this point (and it was principally an atmosphere of boredom) is cut short by the ham-fisted sequencing here. Her Eyes were Green and Seawall are the two standout pieces on this disk where the composers crank up the volume and distortion for the film's culminating scenes. The former adds more doom drenched drone to Wallace's tower of terror while the latter is ten minutes of tub thumping percussion, over the top layered synths on full resonance and some light finally let in at the end with organ tones and the vaguest minor chord melody. Tears in Rain is, you guessed it, the exact same theme written by Vangelis for Batty's death scene in the original and is one of the score's only genuine moments of pathos, albeit borrowed! The penultimate track Blade Runner repeats a common trend of Zimmer's in putting together a medley of previously heard themes for an extended outro, usually while the credits roll. Since this score is virtually bereft of anything approximating a recognisable theme it sounds instead like an expensive synth and pro-tools demo; and not a very listenable one at that. Just to reinforce the incoherence of the whole thing the last word is had by Lauren Daigle with her pop/RnB song Almost Human. It's ok on its own terms but in the context of the soundtrack sticks out just as badly as the Elvis songs.

I happen to think the film itself is something of a triumph, a rare thing these days, a good sequel. Unfortunately it achieves this in spite of Zimmer and Wallfisch's efforts here which are little more than vaguely Vangelis inspired ambient soundscapes, industrial noise and regurgitated percussive tricks from Zimmer's recent work. It lacks all the heart and soul of the original score and, I'm prepared to guess, Johanssonn's too. One final point of criticism is that it's also a resolutely monocultural piece. Vangelis incorporated a range of Islamic, North African and Japanese elements into his score, including vocal elements. These reflected the multicultural look of the LA created by the film makers. These elements, along with the noir mood and lyrical soul are what made Vangelis' work so enduring. Whatever it was that Johanssonn produced which wasn't to the executive producers tastes must surely have been preferable to the predictable, soulless material on this double disk. It's a disappointment and I can only hope Johanssonn's version sees the light of day at some point.






Duncan Simpson