Light Collapse - Nikimna [Torga Amun - 2015]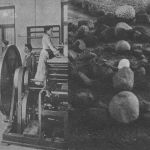 This CDR from Torga Amun comes wrapped in a glossy, A5 card inlay, decorated with collages that juxtapose photographs of old working practices with more rigid imagery that explores texture and pattern. Thereís also a similarly adorned small insert inside. The inlay has the barest of text, but there are three tracks, ranging from around 15 minutes to around 19 minutes. All of these are harsh noise walls, and all are quite static and straight-ahead.

The first track, the shortest at 14:40 minutes, is a no holds barred, full throttle, wall of skree. Founded on a fast, scourging bass rumble, the wall has tumbling high-mid/treble crackles, which flicker and dance over the base. Itís solid, and powerful, but not anything thatís likely to set the world alight. The second piece, which is just over 16 minutes long, is more interesting, texturally. Here, the sound is more bass-mired, more crumbly. The sludgey low-end features slow-burning, mid-frequency noise being dragged along by a thundering bass drone. Over this, more delicate, sharper treble crackles seem to slide and swirl, less physical than the base. In contrast to this, the third and final track - and longest, at nearly 19 minutes - begins with a blizzard of treble. This initial squall settles down quite quickly, but the wall retains these whirling knives throughout. The bass element is perhaps more monstrous than on the previous two tracks, but itís also somewhat smothered, downplaying itís expansiveness. The smothering is done by sheets of treble and high-mid frequency noise, which rain down relentlessly. This is perhaps the most savage, and kinetic piece on the album, constantly spitting and undulating. It has a shrill quality, helped perhaps by conflict between the bass and treble, which seem to fight for dominance. Some passages see the lower elements rise up and rule the sound-field, making the return of the treble savagery that much more noticeable. This movement also pushes and pulls the textures, sometimes forcing more aggressive outbursts and sections.


This is a very solid release, especially recommendable for those who prefer their HNW to be a more heads down assault. Of the three tracks, my ear is drawn to the last two, which combine their sonic battering with more interesting textures; the third piece is particularly good in that respect, using a less static approach to create different passages and interplays.






Martin P