D.S.W.A.C.V - Flora Series- Part II-Hera [Self release - 2015]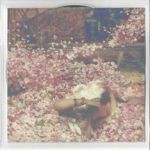 Here's a very simply packaged CDR from D.S.W.A.C.V (Distorted Souls Within A Corrupt Vision), representing part III of the Flora Series. The card insert has the barest details on the back, whilst the front depicts a painting of a woman partially submerged in blossoms - I suspect it readily signifies a certain artist or movement, but my ignorance prevails here. Hera is one long 70 minute track of harsh noise wall, plain and simple.

Whilst it is indeed plain and simple, it is nothing if not enthralling and compelling. It is essentially 'static' - it begins as it ends, and doesn't fluctuate widely in-between - but throughout the piece, layers shift and move. These small variations can sometimes become colossal in the wider, static context. Hera is founded on a fast moving bass drone, rumbling like massed machinery for the duration of the track. Over this, various layers dance and play, the most prominent of which is a high-mid frequency crackle, which becomes very agitated in places. It has a nice 'nearly-rattling' quality to it, and following it through Hera is quite entrancing. Another layer that catches the ear is a curious treble 'splat' which slowly paces through the wall - there really is a genuine depth to the work, a sense of many condensed layers. This gives a - for want of a better phrase - 3D feel to the sound-field: it really does project out of the speakers. This size and architecture creates a grandeur that tempers the wall - whilst it is scathing, it's hard to perceive any suggestion of aggression. This tone is maintained even when Hera threatens to boil over into bassy saturation at points.


This is, as I said above, harsh noise wall, plain and simple. Straight and focussed, it displays the basic, bread and butter virtues and pleasures of HNW. This is not to suggest that it is remotely boring, or unadventurous; it's merely a brilliant example of what's so compelling about wall noise. A captivating piece from beginning to end, but if the Discogs website is to be believed, not a CDR you will likely come across soon. I therefore strongly recommend a visit to the Distorted Souls Within A Corrupt Vision Bandcamp page.






Martin P