H.P. Lovecraft - The Hound & The Music Of Erich Zann [Cadabra Records - 2015]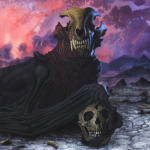 Legendary horror author (and local homeboy) H.P. Lovecraft has influenced generations of authors since the first half of the 20th century. Unfortunately for Lovecraft, his fame and influence wouldn't be recognized until after his death in 1937. Over the course of his all too short career, Lovecraft shaped an bizarre and compelling universe of unspeakable, unfathomable horrors. Despite his untimely demise, his work went on to inspire music, movies, books, and even role playing games. Starting with Andrew Leman's readings of "The Hound" and "The Music of Erich Zann," Cadabra has put forth the first in a series of H.P. Lovecraft readings on LP.

Opening on a delightfully macabre note, "The Hound" tells the tale of two grave robbers and their penchant on growing their "museum's" collection. Hearing of a crypt belonging to a well known grave robber, the two travel quite a distance to work their trade. Despite the baying of a hound in the distance, the pair continue their excavation and find a fairly preserved body, save for what looks like the results of an animal attack. Fortunately (ha, not really), they see an amulet around the corpse's neck; an amulet they recognize from its description in The Necronomicon. Robbing graves as they're wont to do, they take the amulet home with them, and note the continued howling of the unseen hound. Well, one can only toy with such eldritch items in The Necronomicon for a short while, and our narrator and his friend, St. John, are no exception. As one would expect from Lovecraft, there's a horribly grim ending to this not so sunny tale. While "The Hound" is not one of Lovecraft's most famous stories, it's notable for being the first to mention The Necronomicon.

Feeling more Lovecraftian with its weird, other-worldliness, "The Music of Erich Zann" again follows a nameless narrator and his confrontation with the bizarre. This time, recalling his tale of his days as a destitute student living in a house on Rue d'Auseil. He lives below a mute, German viol player, Erich Zann. Hearing strange music night after night, the student goes to visit with this virtuoso and experience his wildly inventive tunes first hand. He comes to find that the songs are beyond the scope of traditional music for a reason, and, like the Nietzsche quote goes, "And if thou gaze long into an abyss, the abyss will also gaze into thee." Though this extra dimensional abyss is startling, it's lacking in its description. This could've easily broken into a horrifying description of an alien city, but stays relatively sparse. Maybe there's something to be said about this restraint, though.

The two Lovecraft stories on display here are given great treatment by Cadabra. Andrew's readings are passionate and compelling, and the light musical cues and sound effects help to keep the listener in. Add to the fact that the cover is really well drawn and creepy, and you've got a winner here. I'm looking forward to hear the rest of the series.






Paul Casey