Harris Eisenstadt - Golden State II [Songlines - 2015]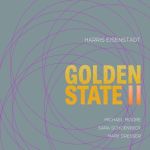 A while back, I reviewed an earlier album by this ensemble, and it was an enjoyable, interesting listen. This release sees the group lose a member (Nicole Mitchell on flute), gain a member (Michael Moore on clarinet), and move from the studio to the live arena. The five tracks were recorded live at the 2014 Vancouver International Jazz Festival.

As with the studio release ('Golden State'), there are several passages of ensemble playing - indeed, the first track, 'The Arrangement Of Unequal Things', begins with one. Several other notable aspects remain too: Eisenstadt's largely restrained drumming, and the nice pace and flow of pieces. However, the general tone is different - there is more of a sense of a traditional 'jazz' group, improvising together; not necessarily a huge contrast, just a definite looser, rougher feel. This is, more than likely, very simply the result of the pieces being recorded live at a jazz festival (to state the very obvious). As its extreme, this leads to some sections where the instruments wander off into free territories; though not always, truth be told, with the greatest success. This is not meant to be damning criticism - though there are perhaps a few sections where the group hang by a thread, or tread water dangerously - rather, it's more an obvious comparison with the undoubted power of their ensemble playing. Whilst it's often fashionable to glorify fiery, intense improvisation, or studied technical exploration, lyrical, melodically rich ensemble structures remain a very noble goal - and it's a goal that the Golden State quartet regularly achieve, effortlessly. Maybe the best example of this on 'Golden State II', is during the piece 'Seven In Six/A Particularity With a Universal Resonance'; here - after a fantastic passage where they coalesce around a rough, strutting groove - the group pass through a couple of wonderful ensemble sections. These are equal parts dignified, majestic and just plain beautiful. They then spoil us, by seamlessly slipping into a sweet, bluesy swing. This doesn't feel like retrogressive, kitsch playing; it just sounds unashamedly radiant, graceful and fun.

Like the earlier release, 'Golden State', this hasn't set my ears alight; but I must admit to a growing appreciation of Eisenstadt's ensemble. My general tastes tend towards the aforementioned 'fiery, intense improvisation' and 'studied technical exploration', but the fact that the quartet rarely cut loose, and concentrate much energy on stately, melodic passages, gives them a special flavour. I compared the previous album to some of Tortoise's work, but this time, to keep things in the post-rock family, I'll nod towards Rachel's - whose first release, 'Handwriting', remains a favourite here. 'Golden State II' is a very colourful, varied album; it is perhaps a little rough around the edges, but the heart of it is very solid indeed. I'm looking forward to hearing more.






Martin P