Kahn/Olive - Two Sunrise [845 Audio - 2014]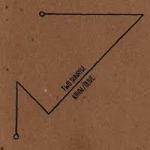 This pro-cd comes in a simple, elegant, Stumptown-printed cardboard wallet. The cd has four tracks, all recorded in Japan, 2012; with the tracks culled from two performances a week or so apart. It all amounts to a focussed thirty-four minutes of of equally focussed exploration.

I say "focussed", because the sounds generated by the duo, cover a slim area of ground; even if the listed instrumentation appears potentially very open-ended - "Jason Kahn - Electronics, Tim Olive - Pickups, Electronics". So, what could, on paper, encompass a world of sounds, actually becomes a tight investigation into "noise". Not "noise" in any way pummelling or transgressive or speaker-bothering; but noise in its dictionary definition as dirt and detritus: electronic dirt and detritus. Thus the album is populated by spurts of sounds, scrapes of sound, scraps of sound. These are stereo-split through the speakers, giving us pure electronic sounds from Kahn in one channel and a mix of electronic and "junk" sounds from Olive in the other. Kahn creates sheets of feedback, burnt-out fits of electronic skree, crackles and poots; whilst Olive gathers scrapes, rumbles and reverberations from his gear - processing some, leaving others.

To some extent, there are two paths trod by the duo: clatter and drone. The former is the constant turning-over of sounds and their momentary interactions. As I said, there's no true sense of "assault" at any point, so its clatter in the sense of the overall sound being made from tiny elements. These elements dance and entwine with great kineticism, sometimes exploding into rough and tumble, sometimes patiently creeping. The drone sections are quite possibly happy accidents, but they are wonderful sounding accidents. There's a brief section near the end of the first piece (all tracks are untitled), where Olive suddenly extends his junk sounds and takes off into a shimmering drone - truly beautiful and star-lit. In the second piece, there's a nice, subdued drone - again initiated by Olive; whilst the final track has a low, throbbing drone from Olive with contrary, abrasive spurts from Kahn over the top. None of this is to suggest that Olive guides or dominates the duo: I think the differences in instrumentation explain his establishment of more drone-y sections.

This is a very solid release, which rewards close listening. The use of a small palette of sounds, means that the duo investigate those sounds and their interactions with great rigour and effect. Whilst my ears are drawn to the more "junk-like" sounds of Olive, Kahn's contributions are equally commendable - and necessary, really, to give the duo an overall "electronic" flavour; thus making the junk sounds more colourful. The short (for this area of music) duration of the album makes it a very digestible piece of work and one, perhaps, for noise people interested in spreading their wings a little. Electrical noise in its truest sense.






Martin P