Pelican - Australasia [HydraHead - 2003]Hello ladies and gentlemen, make way for the most beautiful guitar music of 2003! Make way for Australasia, Pelican's second instalment. Make way for the majestic bird! Pelican is an instrumental band from Chicago, the epicentre of American underground indie music. Shellac, Tortoise, Jesus Lizard… Pelican definitely deserves a place of choice among those big names. Their self titled debut ep, released earlier this year on HydraHead (and reviewed here), was already an indication that great stuff was to be expected, but Australasia just blows it away…When the debut ep was a crushing experience, Australasia is much more majestic, almost cinematic. Feels like flying above the sea in varying weather. First track NightEndDay shows that Pelican now focus more on melodies. Layers and layers of them, heartbreaking ones, giving a feeling of huge spaces, of huge depths. 11 minutes in one second. Awesome. Drought is a return to the heavy as in fuckin' heavier than thou. Layers of guitars, monolithic drumming. So repetitive that it puts you in a trance-like state, with your head slowly banging, eyes half closed. And there even is some double bass drum, which I think is a first for a Pelican… and a very nice one. Angel tears is very melodic, a superb track with awesome riffs and an incredible sound depth. Awesome again. Up next is GW, a song in memory of one Gary Weber. A superb adieu song, the most beautiful choice when it comes to pick music for your burial. Mesmerizing. The next track is untitled. This time, it's all acoustic, which proves that if Pelican down-tune their electric guitars and play some heavy shit, they are first and foremost great musicians and great composers. A very nice additional instrument is featured on this track: singing saw, which is always a nice addition in my book since it sounds so damn fantastic. The song Australasia is a sort of mix between the heaviness of Drought, the otherworldly melodies of NightEndDay and the addition of some acoustic parts. Stunning stuff.I read on some message board that Australasia was what Isis have always be aiming for but will never reach. I love Isis, I love Oceanic, but I have to say that this comment is true. This album is quite simply amazing. It might not be the most beautiful album of the last 200 years, but it's close. Damn close.Photo taken from http://www.madjohnshaft.com/images/pelican20031108/pelican100_0597.jpg






François Monti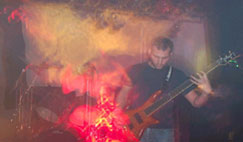 Pelican - Australasia
Hello ladies and gentlemen, make way for the most beautiful guitar music of 2003! Make way for Australasia, Pelican's second instalment. Make way for the maj...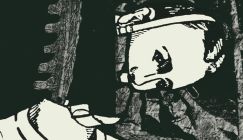 Hastings of Malawi - Deliriously ...
Formed in the early 1980s, after the member's sonic dabbling's on the early Nurse With Wound records, Hastings Of Malawi took a decidedly busy and deta...