Scott Sherk - New York Glyptic [3 Leaves - 2012]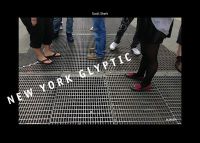 "New York Glyptic" is a long form piece of sound art which utilizes field recordings from in & around New York City- sometimes the recordings are left fairly untouched, but at other times their morphed into atmospheric ambient textures & drone currents. Scott Sherk is an American sound artistic who resides in rural Pennsylvania, and for several years now he's been building sound sculptors from his various walks around New York City, Los Angeles, and rural Pennsylvania.

This CDR release features a single just under forty minute track which finds Sherk taking you on a intriguing, moody & captivating sound journey. It all starts off with your typical sound of NYC streets with honking horns, people chatter ect, but pretty soon Sherk has morphed the piece into undefined yet moodily enchanting ambience, which utilizes blurred & of-focus field recording elements. From time to time things clear up a bit & we return to more bare field recordings of park lands, stations, street sounds, ect. Before once more going back into dreamy & drifting ambient structures which merge together slowed shapes of textural sound that take in clanking, droning, shimmering, and at times almost ominous ambient shapes- from time to time you can make out vague edges of original sounds/ field recordings, but for the most part Sherk creates this drifting & hazed surreal ambient fog. Yet this never becomes aim-less, or uninviting, as all the time Sherk is slowly twisting & bending the track into new sonic landscapes. The untreated field recordings do become less & less as the track progresses, as if your slow but surely getting sucked deeper into Sherk hazed sonic dream of this great city.

Over the years I've heard many city based field recording albums, and I must say Mr Sherk take on this type of recording is rather distinctive & original. It real does feel like your inside a sonic dream picking up snippets of the city's sonic shape, yet often ( like dreams) the shapes & textures are blurred, & seemingly logic/sense is often un-defined too. All told "New York Glyptic" is a most enjoyable piece of sound art, and I look forward to hearing more of Mr Sherk's work.






Roger Batty