Aidan Baker - Already Drowning [Gizeh Records - 2013]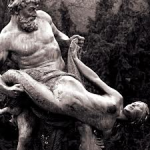 On the influence of seventies British comedy on today's music review writing or how Monty Python's Holy Grail got in the way of writing this piece: it is most unfortunate that the subject matter of 'Already Drowning', Canadian bulimic composer Aidan Baker's newest album, namely myths and folktales about female water spirits, immediately drew unintentionally funny associations with watery tarts and moistened bints because it was a couple of days before I could even start listening to it without breaking into uncontrollable laughter.

Truth be told, Aidan's newest isn't exactly merry material. Somewhat of a departure from the man's habitual fishing grounds – no mean feat for someone whose discography reads like a telephone book – the conceptual premise it is built upon is interesting enough: backed up by a band consisting of soul mate and Nadja acolyte Leah Buckareff on accordion, Laura C. Bates on violin, Nick Storring (Picastro) on cello, Carl Pace (Beta Cloud) on trumpet and Laura Rodie on saxophones, Aidan has penned seven songs dealing with the aforementioned maritime topics and offered each one of them to a different female guest vocalist for them to interpret and lay their voice upon. This obviously makes 'Already Drowning' a more song-oriented exercise than could be expected from the Torontonian. Stylistically, the album navigates within the watery realms of post-rock and slowcore – of a distinctively shoegaze persuasion – and though interspersed with enough experimental touches, it will probably require a somewhat broader mind from those more accustomed to the man's left-field output.

Opening song 'Already Drowning' features fellow Canadian musician Clara Engel. Imagine listening to Portishead on a rainy Sunday morning. In Brighton. In October. And you'll get an idea just how depressing it can be. Invested of an undeniable power of evocation, it has a sort of 4AD-esque quality to it which lends it a quaint melancholy air. Clocking in at more than eight minutes, it also takes its time to install the mood. Its fuzzy and reverb-drenched sonic pattern is one that will be more or less adhered to by the following two tracks – '30 Days/30 Nights' with American slowcore diva Jessica Baillif and 'Mélusine', featuring Valérie Niederoest and Maude Oswald from Swiss indie band Toboggan. Together, they form a trilogy of aquatic sadness that will no doubt delight fans of the aforementioned styles.

Fourth track, the Philip K. Dick-inspired 'Mein Zwillinger, Mein Verlorener', which has Polish-German musician Joanna Kupnicka take care of vocal duties, introduces a subtle mood swing with its disarmingly simple acoustic guitar and accordion accompaniment and offers a welcome respite to the sometimes overburdened indulgence that preceded. The tongue may be different, trading in German for French, but the mood is equally bare on following song 'Tout Juste sous la Surface, Je Guette', which sees Québécoise cartoonist and musician Geneviève Castrée lend her child-like pipes (and distinctive French accent) to a track which alternates delicate moments of serenity with noisier interludes and proves one of the more convincing of the lot.

The following song, the eleven-minute 'Ice', gently sung by Liz Hysen (of Toronto sleep rock unit Picastro, whose cellist Nick Storring is also present on the album), offers a nice mixture of noisy trumpet work and more up-tempo feelings – all proportions kept of course. It's the sort of thing a goldfish could almost wake up to. The mood is decidedly more intimate and jazzy on closing track 'Lorelei/Common Tongue', which has Los Angeles-based veteran Carla Bozulich (The Geraldine Fibbers, Evangelista) recite Baker's lyrics over the kind of depressing soundscapes that would feel at home in a smoky Berlin hang-out in the wee hours of a rainy Saturday morning before the last punters leave the place misty-eyed and sore-throated. A fitting closure to the album, it makes the rest of the songs almost sound cheery in retrospect.

All in all, 'Already Drowning' is a mature affair that showcases the well-trained professionalism and growing baggage of the Canadian exile without losing the sense of immediacy and freshness that most artists tend to squander sooner or later into their recording career. Whether people get it or not will wholly depend, I imagine, on whether the particular genres of music showcased here appeal to their audio taste buds and whether they are ready to stand the kind of hopelessly bleak melancholy which the album so proudly wears on its sleeve. As far as this writer is concerned, it was a typical case of very good indeed, just not my cup of tea.