Mere - Mere [Gizeh Records - 2012]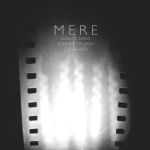 "A nice fold-out cardboard sleeve, with a cd containing boring drone improvisation." I now have to pad this review out for a few more hundred words…

As stated, the sleeve is elegant; although with its abstract imagery and numbers for track titles, it rather leans towards a grandeur it really fails to deliver on. There's three tracks on the cd, two just shy of ten minutes and the third just over twenty-five; and all three are created with guitar, bass clarinet and drums. These creations are all sprawling, droning improvisations; although, from a different angle, they're very focussed indeed. This is essentially my problem with the album: it doesn't go anywhere. The drums keep time throughout the tracks, which would be fine if there was a propulsive element to Mere; but there really isn't. Admittedly, it doesn't help that the production buries the drums - underneath the guitar in particular; but there's no strong rhythmic motion that could give the tracks any sense of "motorik". Instead, the linear drumming helps to restrain Mere to a drone form, destroy any dynamics and seems to encourage constant playing - particularly with the guitar. Thus we are left with very little space in the recordings - very little space for playing, and very little space created by the playing. Midway through "III", the drums actually stop; and suddenly the track comes alive. A tension is created, and it feels like something might happen; but unfortunately, after a very short time, the drums return. They return with an admittedly nice tom pattern, but here was a missed chance for the piece to stretch out and breath. The drum drop-out also reveals that the guitar has been looping a drone throughout the track: which really is the death knell for any hope of dynamics or flexibility.

The guitar does sound nice, being just on the verge of breaking up; but it does take up a lot of space in the recording - most of the time just providing a backdrop for the bass clarinet to dance across. When the clarinet isn't literally trilling, it tends to be playing off and around the drone note/s - much like the guitar; none of which is particularly exciting. Indeed, the playing is overwhelmingly melodic; which is in many respects a harder road to pursue, but nevertheless doesn't reap many dividends. There's a general dearth of extended techniques on show, though there is a nice section beginning "II", with bowed guitar and growling notes from the clarinet; as well as the sound of breathing amplified by the clarinet on "III".

I really did retain nothing from this album. Its not static drone, its not hell-for-leather ensemble playing; its not fiery or delicate except in short, unconvincing sections (and when it is fiery, the drums can't raise comparable intensity). The whole thing is very middle of the road; and whilst taking a melodic approach is certainly interesting, a less conventional method of attack might have produced something more listenable. Although there are a few moments where Mere threaten to enter territories akin to Kevin Martin's God project, most of the time they sound like the end, or penultimate "filler", track on a post-rock album.






Martin P