Various Artists - A Tasty Swarm of Small Signals [Störung - 2010]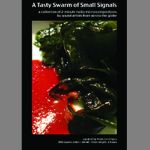 This latest DVD from Störung has been released to commemorate the official opening of the Experimental Music Sound Archive housed in Spain's Puertas De Castilla, a cultural centre based in Murcia. The Archive is made up of the large collection of CDs, records and tapes that resident sound artist Francisco López' amassed over the course of his professional career. But instead of filling the DVD with excerpts from this encouraging Archive, López has curated a new group exhibition of sound artists from all around the world thematically linked by a brief both tight and restrictive yet loose and freeform. The artists could do anything they wanted as long as it resulted in 13 "micro-compositions" each lasting precisely two minutes each which would then be broadcast, one micro-composition a day, on radio. This strictly small duration is an unusual limit for sound artists who more often prefer the benefits of canvasses stretched larger than a regular pop song to fully explore and impose their intent, and placing their short pieces on radio would suggest an unpredictable and uncontrollable situation from which their sounds would spring forth. So, this DVD release brings the full, exhausting three hour exhibition out of the camouflage of radio to present an opportunity for immersion in digestible quantities.

The first room houses '13 Sightings of the Artist in the Dreams of Others' from James Webb, an artist based in Cape Town whose primarily sound-based works are more often found in galleries or installed in natural and urban environments than on a duplicated release. His exhibited work seems to explore the success and failure of communication (be it a gallery space filled with the simultaneous looped playback of diverse prayers from multiple religions or hiding speakers in trees that broadcast birdsong from species extraneous to the region), where thoughts and reactions to the work (or lack of them) are an intrinsic part of his art as sociological exploration. Here, though, Webb surprises by weaving gentle musical passages from piano and electronic tones through a collection of field recordings to form a series of short sound-mobiles that inspire inconclusive thoughts of everyday life. The opener, Piglet, has a spare, stately piano refrain (that recalls Sakamoto's most minimal work) travelling through telephonic glitches before the radio retunes itself across live and dead frequencies to find a child's voice. Such radio motif crops up across several tracks as does morse code, something Webb has explored before as an exclusive means of communication lost on all but the few who can decode its rapid binary rhythms. Elsewhere, the built environment is placed centre stage on 'End of Cities' as vehicles soar and engines hum as the journey's vibrations become the percussion in an urban dirge, while 'Cosmo Passage' voyeuristically places the listener in someone's home as their doorbell rings only to find a wide open field of chirruping crickets the other side of the door. Throughout, each sound, musical or otherwise, has an ephemeral fragility about it, handled and placed with care amongst unusual, equally delicate bedfellows, giving the effect of briefly nodding off whilst listening to a radio and dreaming in a confused combination of recognisable and not-so-recognisable sounds.

Natural sounds that cannot be neatly contextualised continue with the subtle sound play of Australia's Lawrence English that has previously featured in both galleries and across over twenty-five releases, some on his own Room40 label that celebrated its tenth anniversary earlier this year. As the overriding title (Densities in Air) alludes, air as a sound source plays a strong role across what feels like a single piece that, for the most part, ignores the beginning and endpoints of its individually named tracks. 'Chorus', 'Taped Magnetic' and 'Cloaked Storms' take us into a hot night's air filled with distant creatures as an insect's amplified footprints imitate the crackle of fire, holding the foreground until extinguished by a complex electrical tone fresh from a refrigerator. Later, a stubborn, intense but wholly natural warbling suspended in a heavy atmosphere begins 'Within Reach' accompanied by brief clatters close at hand suggesting some unseen presence moving nearby. Next 'Porked Reservoir's rhythmic edits of a growing rush of air march into 'Heard Through Sand' whose gentler coastal breeze grows to reveal erosions from an old tape. In its wake we get a superb, glittering recording of a calm waterway lapping across the speakers before a shot, like a missile, rings out inexplicably at the precise intersection of the last two tracks ('The Guarding Thicket' and 'Reprise) as more stealthy movements and hushed breathing ups the suspense before all sound is claimed by an ominous rumble. These final five tracks are perhaps the most involving part of Densities of Air whose sounds continue to bear a familiarity vague enough to feel like your hiding somewhere new from something unknown.

Densities in Air could also be a suitable title for López' contribution, who continues his custom of leaving his works untitled to keep the listener as free of associative connotations as possible. Whereas Lawrence used a variety of layers of airy ambience as scenery, a naturalising backdrop that provided the context for mysterious activities in the foreground, here López brings the air centre stage casting various atmospheres as prima ballerina in an electroacoustic ballet. But through dramatic processing of minimal matter the series of pieces takes us through a full tonal and dynamic range by way of natural and alien morphologies. Indeed, from the outset the lo-end elements are sublimely presented underpinning a smooth, rushing tunnel giving a sense of scale to the movement like burrowing up to the surface of the earth through a glacier. With jump cut edits separating each track we are suddenly diverted into the next environment (untitled #252) which switches to the ambience of a stone labyrinth full of industrial sawing as the twist and turn of tunnels eventually come upon an emergence of light. After the diamagnetic march of #253 and swooping through the uneasy thunder of #254 we arrive amidst the streaks of orchestral instruments just about evident on #255 where vestiges of clarinet and later, violins, emerge majestically from a droning funnel of air. These small clues placed amidst the unravelling atmospherics create large impressions as the brain stubbornly tries to identify and situate the recordings but ultimately they serve to make the experience both natural and alien as no scene bears a literal translation. The most tantalising instance of this is the very last track where, after the noisy turbulence of #262, we find ourselves floating in the gentlest electrical hum, like that of a clean, organised laboratory, that is so quiet that the end of the track is invisible and, when played through speakers merges with the air of the room of the listener, to highlight its own atmospheric subtleties to enquiring ears unusually and intently primed.

Hamburg's Asmus Tietchens has been experimenting with tape, electronic and concrete sounds since 1965 as his craft was self-taught leading him to teach sound design professionally from the late eighties to the present day. His solo releases have been characterised as highly mathematical, following specific, strict rules, so commissioning a series of 13 two-minute pieces would seem to be highly suitable parameters for this composer. Each piece is called a 'vektor' suggesting some kind of equation as a score, but with results that are far from the predictable regularity implied. Each features a small collection of glitchy digital grains that while synthetic of timbre behave in a way that mimics natural forms, making the supposed underlying vector complex and three-dimensional. The first is like a mathematical interpretation of the trajectories involved in falling down stairs in slow motion as percussive metallic slices slip and skid clumsily with surprise bursts of pitch and digital deterioration at their edges. Elsewhere the minimal patterns suggest rolling spherical tones (vektor 3) thin, creeping wires (vektor 4) and even speech on vektor 12 where a regular digital croak is joined by cracks and trills positioned like syllables bringing to mind The Clangers' alien patois. And alien is, in general, the sum effect of Tietchens' complex directions of displacement that possess real, irregular worldly behaviours but are performed by unknown digital mutations.

Perhaps most puzzling of all is the contribution from Louis Dufort, though, who studied and now teaches electroacoustic composition in his home of Montréal as well as producing numerous solo works and collaborations particularly with contemporary dance companies since the mid-Nineties. Here his titling imposes four groups of three tracks each - chant_1, contre-chant_1, amalgame_1 then chant_2, contre-chant_2, amalgame_2 etc. (with a final thirteenth piece called homenaje, Spanish for homage at the end) - but with little in the sounds to reveal the cipher behind the names. Chants_1-4 have the compositional properties of turning a radio dial as hissing static densifies, diffuses and dies giving way to fragments of indefinable activities that soar past scribbling the air with digital skids, scrapes and tweets plus the occasional orchestral clue as the bandwidths slide past. In contrast, the contre-chants are almost musical. Contre-chant_1 focuses on building a merry-go-round of memories from a piano loop as bright uneven cycling tones become almost cacophonous following their dizzying surges. Contre-chant_2 swims through golden metallic tonal arcs in an ethereal parade while contre-chant_3 continues the sense of grandeur with a complex echoing chord from what sounds like a church organ with brass fanfare building and departing splendidly. Confusingly, the amalgames don't seem to amalgamate aspects of their preceding chants or contre-chants, but seem to attempt to evolve as many textures in their allotted two minutes as possible. The effect recalls images of mice on piano keys as their fast, short footwork erratically stops and starts, but here the keys are triggering an array of mostly percussive, occasionally violent, sounds possessing unstable digital textures at times suggesting the same radio-tuning randomness of chants_1-4. While mysteriously dramatic and eventful the pieces feel like a puzzle so oblique it is impenetrable to all but the composer, perhaps.

Classically-trained musician Alan Courtis (sometimes known as Anla Courtis) from Buenos Aires, founder of experimental group Reynols and serial collaborator, is equally at home working with synthesisers, guitars (stringed or unstringed), tapes or cymbals (to name but a random few) as he playfully tests the limits of composition. For the most part, the thirteen 'Radil's explore the ominous atmospheres evoked by approaching rumbles: 01 builds a malevolent creepiness with qualities of a both a low slung guitar and a helicopter, and 02 continues the flight until dominated by a boiling, bright synthetic soup, while pieces like 06, 08 and the final piece are more minimal leaving the listener to appreciate the outdoors with approaching uncertainty due to the increasingly unnatural properties of the distant thunder. In between we get brief excursions to various places like a disconcertingly abandoned and waterlogged boat (03), and a noise ensemble from a saw mill (04) and violently spinning lathes (10). But it is radil 07 that makes the firmest impression – its high-pitched feedback tone extends unevenly and, in doing so, tortures the ear with variations felt directly and vivdly in the inner ear as if that is where the reeling sound clearly distinguishable amidst the floating frequencies is situated. Although verging on the unpleasant side of sensation the track's curious illusory nature reminds us of the physiology of listening.

Originally from Krakow, Zbigniew Karkowski studied composition and computer music in Gothenburg and later sonology in Den Haag, but now lives in Tokyo with a residency at UC Santa Barbara, California, so when his piece for this DVD is described as "realized in the World 2006-2010" you know it's not a glib remark. Previously, Karkowski has been critical of Western art music's "closed circuit" where the scores became more important than the sound, creating music whose intent was only comprehensible by peers of the composers of the so-called "new complexity". This is possibly what first motivated Karkowski to move away from orchestral composition leading to his experiments with noise that cultivate a more primal response. Here he titles his contribution 'Polyphase' suggesting signal processing, but the pieces themselves have little discernible relation to each other except for the contrast they provide, giving the casual listener an insight into the vast degrees of differences held within sound matter that would normally be dismissed as noise. The opening track makes you fear for your speakers as a fierce electrical tone is relentlessly sustained at a high volume, busily faltering as it struggles to remain on the edge of stability. Stopping suddenly it is followed by the second Polyphase of a growing cloud of static whose initial fluffy airiness is heavily emphasised by the solid bite of its predecessor before it grows into an imitation of heavy rainfall. Later, Polyphase VI sees a monstrous glowing totem emerge out of feedback that steadily grows in volume and starts to shake as the sound elements describe the cusp of break-up only to be followed by a lo-end avalanche through a crackling trail of burning hills. Throughout these thirteen miniatures Karkowski illustrates with ease the strong connotative power of noise in describing liquid transitions and solid states of varying stability.


Placing all this work together on DVD has, perhaps, defined a slightly new way of distributing sound art. It takes the work away from the academic institutions and cultural city-centres in which it is almost always situated and, instead, brings it into peoples homes, providing a professionally-curated exhibition that can be regularly experienced in definable instalments. And this is the best way to explore 'A Tasty Swarm of Small Signals' allowing the listener to program their own selection to reveal over time the rich mine of contrasting and conforming approaches and expressions within. Instead of launching an archive whose purpose is to preserve the historical 'A Tasty Swarm…' has provided us with an international exhibition of contemporary work that anticipates and makes exciting the future of sound art as opposed to its legacy.







Russell Cuzner