Mass Graves/Dead Body Collection - They Will Return [Sweet Solitude Records - 2011]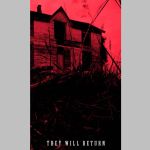 This split offers up two ghost/ horror themed slices of lengthy, heavy and brutal Harsh noise wall making. The split brings together Missouri USA based Mass Graves(which is all the work of one Jeff Landgraf whose also in the great HNW project Oblive) and Serbian based and highly prolific project Dead Body Collection.

First up we have an untitled track by Mass Graves which comes in at just under the thirty three minute mark. Reading the inlay card that comes in the dvd sized packaging it seems this track is based around the story of a house in Rural Missouri where a farther brutally stabbed his wife and three daughters to death, before hanging himself in the attic. The house has been uninhabited since, but bits of the noose still remain in the attic, and the carpet is stained with large brown stains through-out the house..... chilling stuff and 'wall' nicely fits that tone. The 'wall' on offer here is of the dense, chugging and unrelenting variety- it's built around a thick churning, juddering and chugging noise tones which has some nice muffled static undertones. The track has a suitable nasty 'n' dusty feel about it, and it brings to mind frenzied attacks by ghostly hands with blood spattering cobwebs and dust laden furniture. The sound is crisp and atmospheric, and thankfully there's none of the muffled or weak sounding production which rather marred this projects early work.

Second and lastly we have Dead Body Collections track "Il Fantasma Di Anna Never" which seemingly takes it's name from one of the Italian comic book stories that features paranormal investigator Dylan Dog. The title roughly translates to "The Spirit By Anna Never" and the comic book features a picture of Dylan Dog with his gun drawn against the figure of a ghostly women. The track on offer here comes in just under the thirty minute mark, and the first ten minutes or so of the track are built around a rapid judder and slightly raising 'n' falling roar- it's ok…but rather atext book example of wall-making. Though all is not lost for the track, as from just after the ten minute mark the 'wall' morphs into this great panic, taunt and caught feeling with juddering and roaring seemingly rolling into each other to create this great intense paranoid feeling of been surrounded by hundreds of footsteps (but of course with a tone of feedback on top). The 'wall' switchers once again towards the twenty minute mark with a mixture of judder weaved with smaller jittering static tones- this development is fine, and while it's not as appealing as the middle section it's far more rewarding than the start of the track.

I'm a sucker for themed releases and especially horror based themes, and "They Will Return" is a good to great themed album with the first track been rewarding through-out and the second track been mostly successful.






Roger Batty