Heavy Winged - Spreading Center [Release The Bats - 2009]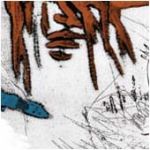 "Spreading Center", among the more recent albums in an impressively large catalogue, is my first experience with this band Heavy Winged. This, like their other albums, is completely improvised noise rock - dark, noisy, psychedelic jamming with a more serious purpose than to trip you out or take you to space. It comes with two 26 minute tracks, which I'll discuss individually.

"Spreading Center" is ominous from the start, beginning with a meandering, dissonant picked guitar melody that creeps quietly out of the silence - a great beginning. The drums add in an incessant, hard-hitting mid-tempo quarter note pulse. The guitars shift to a haunting, minimal, black metal influenced style of melodic playing, falling periodically into indistinguishable feedback. From here the sound becomes quite claustrophobic, a contrast to the cavernous sound of many psychedelic jam bands. There are hinted influences from progressive, dissonant hardcore like Botch and truly experimental bands like Ephel Duath in feeling, though not structure. Unfortunately, the band loses a lot of momentum when the sluggish, noisy groove never really picks up. Due to the low budget recording, after a certain point all you can hear are the cymbals crashing in quarter notes, despite hints that the guitar is playing a riff behind them that has the potential to be massive. I know the production gives the band some kind of cred, but It'd be nice to hear some more thickness and clarity in the guitar, though I already like the tone and the distortion. Anyway, "Loudon" appears to be Heavy Winged on somewhat of an off day. After about 10 minutes the drums finally abandon that tired beat for an anxious snare roll, and it starts to get really good - In the next 10 minutes, the song builds into a hypnotic, rhythmically syncopated mantra, and the feedback wails synthesize into a wailing, tension filled chord. The track ends with an epic Godspeed You Black Emperor-esque major-minor alternation... However, I fear many listeners attention will have wandered elsewhere before they get through the tiring first 10 minutes.

"Strigoi" starts closer to Acid Mothers Temple territory. A blissful guitar melody that meets the ear like a sea breeze builds into a noisier but all the more uplifting section. In pleasant contrast to the drag near the beginning of "Loudun", the drums push the otherwise chaotic and nearly arrhythmic music forward with active, propulsive energy. Feedback and noise swirl through the mix and we are swept away. The guitars hint at cloud like melodies with beautiful chiming harmonics and echoes. The drums dramatically exit while the other waves of sound continue to roll over you. Departs into pure (guitar) noise. A singular firey whine turns into multifaceted ghostly otherworldly melody. In parts less original than Loudun, also arguably more powerful. A psych rock gem.

As a whole, this is a good record, albeit a messy one that drags in places. Occasionally the band members create a genuinely powerful sound. They don't resort to too many tired ideas, and they play tense, dischordant parts and serene, ambient sections equally well. If you're already a fan of noisey jam rock of the homemade, freeform and highly experimental variety, you'll definitely enjoy this. If you need clean production on a record, stay away. If you have a short attention span, again, steer clear of this one. I definitely enjoyed it enough to listen to some other material by Heavy Winged, and I'd love to see them live. I have a feeling this represents only a small part of the ground they're capable of covering.






Josh Landry