Various Artists - The Cool Scene At Cafe Bizarre [Righteous/ Cherry Red - 2010]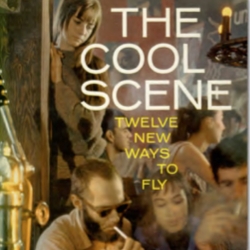 'The Cool Scene at Café Bizarre' attempts to recreate the musical and sonic vibe of late 1950's and 1960's Greenwich village Beatnik & smart hippy scene that congregated around cellar clubs like Café Bizarre & Café Cino.

This compilation brings together a selection of tracks from two long out of print & never on Cd collections; 'Cool Scene' which featured lite jazz bop and 'Greenwich village Café bizzare' which featured poetry, beat talk and general beatnik talk lined spoken word. The compilation is a fairly even mixture of lite jazz work-outs, acoustic guitar strumming with spoken word elements or beatnik talk over the top, and straight spoken word tracks. Sadly none of the spoken word tracks feature any of the more recognisable beat generation poets/ writers such as Allen Ginsberg or Jack Kerouac, through there are some nice & creative pieces from lessen know figures like: Jamaica Johnny Cayone, Ringo Angel and Steveson Phillips. The more musical tracks are enjoyable enough in there lite jazz & beatnik vibe, but nothing really stands out and it's all fairly safe sounding with no more experimental or avant grade tracks present here. The whole compilation flows nicely between one musical number, and then one spoken word track through-out the whole album. With each track lasting between just over a minute to just under the four minute mark a piece, meaning if there's anything too grating or trying it's over very soon

On the whole 'The Cool Scene at Café Bizzzare' is an enjoyable(if fairly safe) sonic trip back to the hash smoke hazed and beret wearing days of Greenwich Village and it's hip 'n' happening scene. So if your looking for a fun & groovy trip back in a time this could well be for you.







Roger Batty