Programme - L'Enfer Tiède / Une Vie [Lithium / FatCat - 2002]After I was blown away by the 7" single Une Vie on FatCat Records I decided to check out the full length album L'Enfer Tiède, released earlier this year on Lithium Records, too. Not many reviews start with a conclusion, but I can already say that Programme have released two devastating products that will for sure end up in my list for best albums of 2002.Programme (pronounce this with a French accent to make it really sound "avant-garde") is a duo from South France, consisting of Arnaud Michniak and Damien Bétous. They have released two albums before on Lithium, but I doubt that many people outside France picked those up, unfortunately. Perhaps the closest comparable act is The Young Gods, so the description "violently deranged rock" seems to be pretty fitting. However, this isn't as "rocking" as you would (or want) to think. The band concentrates on the vocals, percussion and other (electronic) effects, instruments and samples, and keeps the guitars in the background except for some sporadic eruptions of noisy and distorting violence.The opening track is already a special one. Il Y A ("There Is") is like a sound of distant plane engine that is about to crash, looped and repeated. Then two repetitive text lines are placed over this, after which another vocal line overlaps the other one, continued into many parts of different lyrics. The track becomes noisier towards the end with numerous samples in the background. Another highlight is Entre Deux Feux ("Falling Between Two Stools"): a threatening but very atmospheric and melancholic piece of acoustic guitars supported by the most appropriate lyrics. Too bad this track lasts only a short 3 minutes, in contradicting to the final track "Et La Ville Disparaît" (I assume most of you can translate this), which ends after 10 ½ minutes. This is the most minimal track on the album, but also the most discomforting, because of the sudden chaotic occurrence of an accordion or something.Two of the hardest (and best) tracks on the album, Une Vie and N'Importe Quoi Pour N'Importe Qui have been licensed from Lithium Records to be released as a part of the FatCat 7" series. The title track is build around just one hypnotizing constantly repeating piano chord, followed by percussion and the ever impressive French texts. Again the guitars remain somewhat in the background, but you can feel the track is building towards a fantastic climax. N'Importe Quoi Pour N'Importe Qui which means something like "whatever for whoever", is an aggressive, violent track based upon heavy drums, a low distorting bass line, two parallel vocal lines and occasionally outburst of disturbed guitars. Thus another excellent output from FatCat, which will probably bring Programme to the attention of the public outside France.I wouldn't say that my French language is bad; it's just plain awful. The more pleasuring it is to find out that the delightful digipak of the album contains a 20-page booklet with the French lyrics and their English translations. And if the music or the artwork isn't impressive already, then the lyrics are. Social criticism, the place of man in the world and their relationship with their time and their generation are subjects dealt with when reading through the translations. This all packed in poems full of truth and honest feelings, apocalyptically simmering… The fact that this duo takes the courage and effort to describe these topics is fascinating and admirable. The texts are not only a pleasure to read, but also very interesting and something to think about.All in all, these two are the highlights coming out of my stereo equipment lately, and definitely a contender for "best album of 2002" so far. All I can do is suggesting that you pick them up; I predict a bright future for this band.






Justin Faase




Programme - L'Enfer Tiède / Une Vie
After I was blown away by the 7" single Une Vie on FatCat Records I decided to check out the full length album L'Enfer Tiède, released earlier this year on L...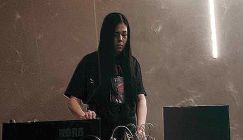 IO - Of Sound, Of Art, Of Expression
IO is a Brazilian visual artist, scenographer, fashion designer, performer and electronic music producer from Porto Alegre. Sonically her works move between ...