Namazu Dantai - Winter Assault [ Phage Tapes - 2009]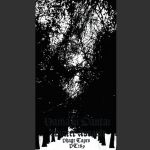 'Winter Assault' is an extremely apt title for this c40 from Germany based HNW project Namazu Dantai (aka Sascha Mandler who's also in the excellent, but unhinged & brain screwing noise meets shaman music/ world music project Izanami's Labour Pains). As Mandler offers up two sides/two 'walls' of punishing storm torn & ripped HNW matter which really does make you feel like your staggering through a battering & wind tearing winter hurricane or violent storm.

Side one is taken-up by the first 'Untitled' track and this starts out with Mandler unleashing a hellish torrent of battering, ripping, roaring & pelting noise tones that literal bring to mind trying to walking in a 100 mile plus storm along side a large wooded area. As you walk the trees violent sway & roar with the huge gusts of wind and branches along with various other debris our ripped-off & throw towards and around you in a maelstrom of sound. After the initial and all engulfing overloading of the first three or four minutes the track settles down into one battering storm 'wall' after another with some quite neat & almost percussive bombardments ripping out of the 'wall'. There's also some billowing, grimly harmonic & dramatic drone burns coming out of the ripping and fierce wall of sound ever-so too. Though the track is quite shifting & rapid in it's movement Mandler always keeps it thick, battering & quite adrenaline fired though-out the pieces twenty minute runtime; he doesn't really leave you for a moment breath or respite. In the last few minutes of the track he locks it down more into a smouldering grim atmospheric drone & bounding 'wall'.

Flipping over to side two and we have the second 'Untitled' track which crashers in with a more juddering & pelting 'wall' tone which brings to mind a high distorted fuzzed recording of hail stones hitting a tin or Perspex corrugated roof. As the track moves into it's third minute the track gets even more nasty, jaggedly ripped & rapidly battering; yet at the same time Mandler is pulling through these atmospheric & grim harmonic drone hoots, bays and jitters-that you can just make-out ever so often in the rapid & twisting sonic downpour. Towards the end the track dips into more wind ripping, thunder roaring and crashing tonalities. Again like the first side it's fairly active, twisting & storm like; yet it's also hellishly thick, densely layered & extremely unforgiving.

The simple, grim but highly effective white, black & grey screen printed tape cover of a snow bound line of trees and their upper branches excellently illustrates the bleak, dark and half light storm battering tone of the release. Yet another highly worthwhile release from the splendid Phage tapes and another very rewarding, creative and distinctive take on the HNW genre by Namazu Dantai.






Roger Batty