Shivaree - Rough Dreams [Capitol Records - 2002]It's cool... it's relaxing... it's different.
This is already the second album from US based band Shivaree and I just happened to stumble upon them a few days ago and bought both albums at once. I saw their video Goodnight Moon from their first album and thought it was very interesting so I had to get more. So far I've only listened to their new album a couple of times so this review comes first.But how can you categorize their music? I never before had so much problems to give a label to an album. Some weird style creations came to my mind: "Trip Swing", "Alternative Electro Jazz", "Country Swing Jazz", "Alternative Country Pop Rock".Someone also suggested "Post Jazz". Whatever... I guess all these descriptions fit somehow but most of the time they don't fit at all.So I will simply say it's very good music.The female vocals are as cool as the name of their singer Ambrosia Parsley suggests. She sings like a mixture between Björk, Louis Armstrong and Juliana Hatfield. Most of the time very relaxed and sexy and I always have this image in my head of her standing in smoke-filled bar with a cigarette in one hand and a gin-tonic in the other while giving an ultra-cool vocal performance. Ambrosia is also the main song writer as she wrote every song on this album, most of them together with guitarist Duke McVinnie.I will try to get into some more details about every song on Rough Dreams now. The album takes off with Wagers, a very slow and relaxed (did I say that before?) intro-song with slightly distorted vocals by Ambrosia Parsley. It's not a real song, as it's less than 2 minutes long and just serves as an intro ending with the vocal-lines "We usually lose. But sometimes we win, so light up and let us begin.". Gone too far starts with some rather electronic distorted noise and some trip hop and jazz elements come in. By now I have realized that the lyrics aren't the strongest part of Shivaree. I'm not sure if they make any sense at all but they don't make too much sense for me.Still it's ok and somehow they fit very good to the music as the strange lyrics also suggests some kind of coolness. The next song After the prince and the showgirl is somewhat swinging with a bit sugar on top. Not one of my favorites but ok. All because you told me so is one of the highlights on this album. This is kind of electro-jazz with some very swinging parts and it reminds me very much of a Louis Armstrong song somehow. Some weird sounds, some typical jazz sounds and ultra-cool again of course.The next song Thundercats is another surprise as it's more of an alternative rock or grunge song but with electronic drums and 80s keyboards. Quite good for a change and you can see that Shivaree would also be a pretty good rock band. Snake Eyes is a very short "song" again. More like some kind of break in the middle of the album. Sounds like some kind of strange background music on a fair.Stealing Home is a very calm song with strong country influences and lots of sugar on top. Well, maybe it simply IS a country song... but since i'm not much into country music this song has to be the weakest on the album.But it's getting much better again with the first single John, 2/14. Swinging rocking Jazz is back and now there's even a tango in it. Pretty cool vocals again, a violin and some "doo-whaps" in the refrain.One of my favorites again. Reseda Casino has some more cool country rock elements and a pretty catchy refrain again and you wish to pay the "reseda casino and bar" a visit afterwards... 10 minutes is a calmer jazz song but with an extreme coolness, some hand percussions and "Jesus Presley Elvis Christ", whoever that might be. It's a pretty sexy song and Ambrosia's "you can love me all the way home" fits perfectly to the mood. Some calmer rock-stuff comes with Queen-Sized Tomb. A song I disliked at first but it really grows on me and now I think it's pretty great. The guitars are making some weird sounds here and there giving it some jazz touch again. The last song Flycatcher is a very funny jazz song with blues influences where Ambrosia sings together with guitarist Duke McVinnie. Another great song and the vocal performances on this one are extraordinary cool again.Damn and after approx. 40 minutes the album is over already and this has to be the only really bad thing about it. I really love this band as it's finally something fresh and different again and I'm looking forward doing a review for their debut album I Oughtta Give You a Shot in the Head for Making Me Live in This Dump soon.If you're into jazz this album is a must-buy anyway and if you're open for new things which aren't easy to categorize I really recommend you to check this out. So prepare yourself for rough dreams...
It's sexy... it's fresh... it's swinging.






Andreas Oelke




Shivaree - Rough Dreams
It's cool... it's relaxing... it's different.This is already the second album from US based band Shivaree and I just happened to stumble upon them a few days...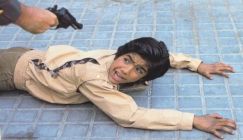 Dr Tom Whittaker - The notoriou...
Late last year Severin released Eloy de la Iglesia's Quinqui Collection- a two Blu-ray set bringing together three brutal and provocative Quinqui (deli...