Daniel Menche - Kataract [Mego Editions - 2009]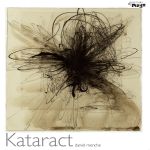 Kataract finds Daniel Menche harnessing & morphing field-recordings of waterfalls into one long picec of dramatic, often noisy & shifting sonic bombardment/ mood setting sonics.

The near on 40 minute piece starts off fairly subdued, gentle pulsing & rhythmic in itís feel with a stuck drone texture been flowed over by wire like fluctuations & aquatic murmurings up bobs. But with in a few minutes it starts to become more urgent & rising in itís intent(yet still relatively Ďquietí) as Menche skilfully builds up texture layers of tone & sound. At about the four minute mark a hissing & pressurized water tone is let lose with Menche just nudging itís edgerís with slow almost electro rhythmic pluses; giving this nice feeling of a controlled mix tureof natural tone & techno cold grace. From here on the pieces builds and builds a dense sonic feeling with at around the 20 minute mark it breaking out into almost harsh wall noise territory as Menche makes the sound so thick, punishing & wall like in itís intent. The rest of the piece sees Menche building, shifting & working the waterfall tones in a effective way that mangers to keep much of the original raw tone yet is controlled deep & eventfully. With the level & depth of the sound lessens to more subtle tonality & sonic weight in the last five minutes or so.

Another example of Mencheís masterful manipulation of field recording matter into shifting, varied & rewarding sound making. Though I canít say itís one of my favourite pieces by Menche as at times it feels a little detached & emotionless compared with some of his work, but never the less it has itís moments & you canít help but admire his general sonic skills.






Roger Batty