Nils Petter Molvær - NP3 [Sula / Universal - 2002]Nils Petter Molvær is one of Norway's finest jazz artists, well-known for his successful cooperation with other artists as well as his solo work. "NP3" is his third album, following the highly acclaimed "Khmer" and "Solid Ether", released in 1998 and 2000 respectively. Although I heard only a couple of tracks of his previous work before, expectations where high for this release, as it promises to be another landmark record in the history of modern jazz music in Norway.Molvær was born in 1960 in Sula, Norway, before he moved to Trondheim at age 19 to study music at the local conservatory. He began to develop a unique style of trumpet playing with influences ranging from Miles Davis to Bill Laswell. His combination of improvised trumpet playing and refusal to stick to the normal boundaries of jazz, rock, pop and funk made him a popular musician, composer and producer. "Khmer", his first release with his "own" band became a world-wide success, selling over 100,000 copies, yet he remained very active in helping other artists out. That is one of the main reasons why "NP3" is only his third solo release, and here we also find the name of the album.Well, not entirely "solo"; for the great variety of instruments used on the album, Molvær has brought together a whole band, mainly the same people who worked with him on his previous releases. Although he has written, composed and produced all the music and plays the trumpet himself, five people plus four additional participants are responsible for "NP3". The instruments used include the normal setup of guitar, bass and drums, but also electronic beats and drumcomputers, distant noises, Egyptian voices, female Arabic guitars and above all numerous samples and ambiental soundscapes coming from keyboards and synthesizers.What is very distinguishing about this release is that it's very laid-back and easy-listening. Only the second track "Axis Of Ignorance" and the superb and outstanding last track "Nebulizer" have some danceable drum 'n' bass alike beats present. The other tracks fit the description "jazz with trip-hop influences" quite well. Nils Petter Molvær is a terrific trumpet player, able to cope with every kind of change in the musical direction. "NP3" is much based on his play of course, and the other sounds are – as you can expect – relatively minimal; the ambient music in the background could easily fit on the Cold Meat Industry label. Just when you expect the funky beats take over the trumpet they fade away and the track changes into a relaxing lounge-thing. Vocals are not present, apart from the samples, but Molvær's play is good enough to keep interest. The production is something that attracts attention too; so very well balanced and so crystal-clear... A more than exceptional work."NP3" might as well be a modern version of a Miles Davis LP, and that says enough about the quality of this release I think. Perhaps Molvær's work on this disc is not as improvised as he does live, but we can only judge that when we've seen him performing. Definitely something to look out for...






Justin Faase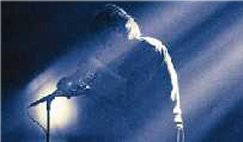 Nils Petter Molvær - NP3
Nils Petter Molvær is one of Norway's finest jazz artists, well-known for his successful cooperation with other artists as well as his solo work. "NP3" is hi...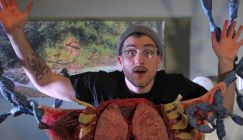 Lucky Cerruti - Of Not so Friendl...
New York-based Lucky Cerruti is one of the up-and-coming directors in the underground horror scene. Since 2019 the theatre actor turned director/ writer/prod...