Verilöyly/Candy Cane/Navigations/Cahier - Split [Rabbit Ilns Records - 2008]In addition to Candy Cane's excellent Fay-ra-Doowra (see review), this four-band split disc makes a very good introduction to some of Finland's most interesting new bands. Instead of taking the more fashionable path of big acts such as Stratovarius and Nightwish, the four bands here seem to draw from very different sources, namely Suomi's legendary black metal scene and the school of experimental rock that took the Finnish by storm in the late 60s. I was, perhaps ingenuously, able to unearth aesthetic affinities with The Sperm and The Blues Section, defenders of freedom long forsaken, as well as the oppressive atmosphere of Beherit. It's hard to determine if the aforementioned influences are indeed planned; possibly they are not. In any case, the only thing that truly matters here is the spirit.Had it been an LP instead, we would have had two very different sides. Verilöyly opens the ceremony with two beautifully recorded short tracks, Pink Flamingo and Tattarmossen, stepping everywhere from Surf Music to Hardcore. Despite the tight performance, what impressed me the most was their sound. A bad producer would have turned it into unrecognizable din. Candy Cane is the next, and brings two samples of their very finest. Both Saave and Deko rank along with the best moments of Fay-ra-Doowra. Just like Sonic Youth and The Flaming Lips, Candy Cane has an uncanny ability to write tunes that conceal precious pop melodies inside sarcophagi of distortion and static; and for the benefit of the listener, CC in these two tracks has more to do with The East West Blast Test than anything else.This would be Side A: two bands, four tracks clocking in less than five minutes of purely fast free rock, if such a thing is conceivable. Side B, then, would be the so-called dark side.Navigations is a weird case. I'd heard their album The Green Valley and a few tracks that came out on split CDs and was expecting something like a post-rock rehash, and when I first listened to the kabbalistic-titled Black Vastness Hymn and the awesome Natural Cathedral, the lengthiest of the tracks, I was surprised. Instead of offering more of the same, the three boys from Turku came with two dense, foggy atmospheric compositions, written and recorded in the best in the woods fashion so dear to Finns. Natural Cathedral, as I see it, is the best of the bunch, doing in 12 minutes that which the Acid Mothers Temple seldom did in a truckload of albums, depicting in pastoral canvas an outer space version of Robbie Basho. Performing miracles to keep the weather unchanged, CC's mastermind Marko Neuman's Cahier, his most prolific recording project, delivers two beautiful psychedelic landscapes, the second being quite remarkable. I cannot refrain myself from devising the thread that links Alma II and Alma III to a tradition—outlined in the first paragraph—whose truly unique characteristics are transformed into something that does not resemble it in the least, and yet brings it to the surface whenever I listen to Cahier. I apply this commentary to all eight tracks of this collection, and the curious ear of the reader will certainly know where to look for them. It's like listening to John Zorn's oeuvre: you know that every single track is a universe in itself, and among them you'll find the one that irradiates the beauty that enhances the splendorous order of the encircling cosmos. This split disc is a very good opportunity to cast a gleam of understanding on a scene that is a universe apart, whose heart beats unceasingly.






N.S. Endebo




Verilöyly/Candy Cane/Navigations/...
In addition to Candy Cane's excellent Fay-ra-Doowra (see review), this four-band split disc makes a very good introduction to some of Finland's most interest...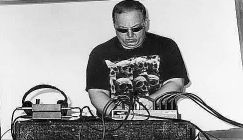 Schloss Tegal - Back To The Dark...
Existing since the late 1980's Schloss Tegal is an incredibly important and influential project, within both the dark ambient and industrial scenes. It...