Werkraum - Early Love Music [Ahnstern - 2008]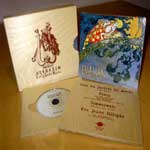 Early Love Music is a varied, soothing and often highly tuneful mix of traditional/ medieval folk, folk/ rock, prog, psychedelic airs and pop music from the nearly never failing Ahnstern label. This been probably one of the most approachable and normal sounding albums on the label thus far, with also many of the songs been sung in English too instead of the normal germanic singing that features on many of Ahnstern releashers.

At the centre of Werkraum is Axel Frank who composers and arrangers most of the song here and plays a beautiful and exquisite collection of instrumentals such as guitars(electric & acoustic), piano, Hurdy Gurdy, Lute, Wurlitzer, Sitar, 70ís tinged spacey and psychedelic organ , Mandriolas, Accordion, Zither, Strings, flute, various percussive elements, recorder and whistle. He also singers in just under half of the tracks here, but most of the tracks have a different and varied vocal delivery for each one we have the vocal talents of the following; Nicholas Tesluk( Changers & Werkraum), Reinhard Hopfe(Sturmpercht, Fall Weiss) Nick Nedzynski(Lady Morphia),Max Percht(Sturmpercht), Robert N. Taylor(Changers & Werkraum) and some enchanting female vocals from Antje Hoppenrath. The album really flows like honey in to ones mind been an pure pleasure from beginning to end with the tracks being inventive but always soothing, harmonic and atmospheric- the album lasting Just over an hour and 16 tracks long.

A few of my favourite moments come in the form of the ornate yet playfully psychedelic medieval tinged folk of the opening rendition of Lewis Carrollís Beware The Jabberwocky with great bobbing Bodlhran, acoustic guitar, string grace and Nicholas Tesluk theatrical folky vocal delivery. Ein Lied Von Lieb und Treu with itís memorable mix of Accordion, guitar and whistle and Axel Frank tuneful Germanic vocals to make a highly addictive slice of pop tinged Austrian folk. The acoustic guitar strum and 70ís electric guitar weaves of The Dream with great groovy and spacey organ tone and Nicholas Tesluk talky psychedelic tone, towards the end the track goes off into great mellow instrumental and spacey zone. Der Schmied With itís late 60ís folk rock feel, Antje Hoppenrath female sinning and an effective mix of E-guitar and Mandriolas.

And if all this wasnít enough the special edition of the album comes in a beautiful made light coloured wooden slip case with a bonus 3 inch disk inside, much like Ahnstern did with the Wilde Jaeger compilation. Which offers up another four tracks and 20 minutes of music which is a great as anything on the album and opens up with the truly enchanted track Tous Les Jardins Du Monde which sees Frankís exquisite and tuneful lute playing over a field recording of bird song.

All in all an highly consistent and varied album thatís a great enter point into the wonderfully world of the Ahnstern label. Early Love Music will appeal to anyone who has even a passing intrest in folk- just let Werkraum work their magic on you and you'll see!.






Roger Batty