Secret Chiefs 3 - Second Grand Constitution And Bylaws [Web Of Mimicry - 1998]"Call us old-fashioned, but whenever we self-righteously draw out our pagan bow-strings back, our arrows are aimed at Beauty and Truth. We usually miss. But we try to make damn sure those ill-shot arrows hit ground somewhere near the region of Entertainment!" Thus starts a lengthy philosophical text in the booklet of Secret Chiefs 3's second full-length release. And they sure hit the region of Entertainment on this one! Like the latest releases by his other projects/bands Mr. Bungle and Faxed Head this album shows a more songbased approach. Hūrqalyā kicks off with a cover of R.D. Burman, a famous Bollywood composer. I think they actually hit the 'Beauty' spot with their 'ill-shot arrow' here! If this term should apply to only one musical piece of his voluminous oeuvre The Rose Garden Of The Mystery (referring to a Sufi poem by Rumi) should be it. This tenderness is a rather new approach in Trey's work. This track is followed by a surf track with a monstrous production. Waves Of Blood is loosely based on Surf Party by The Astronauts and the title speaks for itself, I think. It is followed by another surf song called Broken Glass Hearse. This song is based on The Hearse by the Phantom Surfers. Both tracks have a very big sound and together with the, also somewhat surfy, Orbital Ballroom In The Hall Of The Resurrection that appears later on the album. These songs are part something called 'Book T'.The fourth track, Renunciation, is a cover of Ananda Shankar and is performed with an occational heavy guitar and the theme is played on sitar. This is sort of a hindi rock song, very nice. Next up is an insane Arabic jungle track with some industrial flavours. Trey worked non-stop for almost a week on these tracks: Jābalqā and the 9th track Jābarsā (the twincities of Hūrqalyā according to Persian Sufi mysticism). The pieces are built on drum 'n' bass beats and a sample of Arabian strings (they could also come from a Hindi source, but in this context it sounds Arabian). There are live instruments added and there's a lot happening in here like samples of broken glass and layers of distortion. In one word: amazing!After part 3 of the Book T trilogy the second R.D. Burman cover: Mera Pyar Shalimar. A beautiful Hindi ballad originally sung by Asha Bhosle I think. The Secret Chiefs 3 stay very close to the original. The production, or I should say soundquality, is of course much better than the Hindi version, in fact the production of the whole album is exceptional. I don't know if the blonde girl in the booklet sings this, but she doesn't sound 'blonde' at all! Again: a well-aimed arrow! On the reissue on Trey's own label Web Of Mimicry a bonustrack is included. It's a remix of a track from the first album originally released on a red vinyl 7", now out-of-print. Zulfikar II is okay, but I personally prefer Zulfikar III.When climbing the mountain Qaf one sheds his/her material body and perceptions and as cathartic as this sounds, the piece Beyond The Mountain Qāf sounds exactly so. It starts of with some kind of taksim (Turkish/Arabic improvisation) on 'fake saz' (a saz is a Turkish longneck lute) by Trey. He gradually adds distortion to apparent total saturation, but he manages to add some more! The overall volume actually exceeds the level of the rest of the music so watch your speakers!Finally we arrive at the land of the Eighth Climate: Hūrqalyā. In a gentle breeze we can rest in the "heavenly earth"... but wait... there's something in the distance...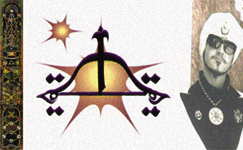 Secret Chiefs 3 - Second Grand Co...
"Call us old-fashioned, but whenever we self-righteously draw out our pagan bow-strings back, our arrows are aimed at Beauty and Truth. We usually miss. But ...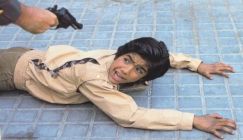 Dr Tom Whittaker - The notoriou...
Late last year Severin released Eloy de la Iglesia's Quinqui Collection- a two Blu-ray set bringing together three brutal and provocative Quinqui (deli...