Various Artists - Belly of the Whale [Important Records - 2006]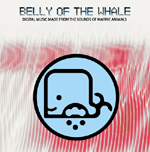 Sadly in the past Whale sounds have been the reserve of dodgy new age mediation/ relaxation cds . This new project/ compilation from Important records redressers the balance, seventeen artist utilizing Whale sounds (along with other deep sea sounds) in provocative, interesting and varied ways.


Dropping down in lots of different musical areas from: ambient, electronic beat scapes, noise, Jazz, aquatic guitar blues, and lots more in-between, pretty much something for every musical taste. All of it is touched by a very watery, strangle alien hue. The whole album has a floating unreal vibe, for most of its playing time and the track seem to neatly fit together making and enjoyable whole which you can leave on to paint the room in eerier aquatic colours and vibrate coral red and greens. Jim Nollman's Real time interspecies music, appears to be just that, he plays blues twang guitar which the whales or dolphins then replicate the tune, all of this is going on over subtle watery tones, making a interesting and strange landscape, quite unlike anything I've heard before. David Rothenberg's Inside the whale, marries haunting clarinet tones, against the echoing tones of whale song and oddly water almost tabla like percussion. Cetacean Somnolence by Yannick Duaby is a gorgeous and eerier mix of harmonic tones, with creepy undersea clicking, coming off like a more sea bond version of Nurse with wounds Soliloquy for Lilith, you can almost imagine drifting slowly along the seas floor, in the deep blue quite.

One of the more interesting sound albums your likely to come across, which aptly mixes sound source recordings and an eye for song craft, so these come off as 17 fully formed musical adventures , instead of vague audio water colours. A must have!. Pop along here for soundsamples and more details of the project.









Roger Batty