La Breiche - Le Rite [Cold Spring - 2020]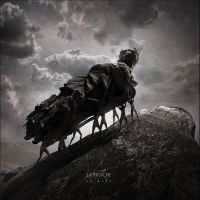 La Breiche (The Witch) are a rather unique experience, loosely described as ambient folk this term does not really help given the diverse influences involved here. One can hear elements of the aforementioned musical genre sitting alongside elements of black metal, shoegaze, post-rock and pretty much anything you care to shake a stick at, it's all here somewhere. The whole album is a fascinating immersion into the musical psyche of those individuals involved, taking a thoroughly modern path through ancient territory by mixing traditional folk instrumentation with modern technology to great effect, but more about that in a moment.

The band, who hail from the Pyrenees region of France were formed by multi-instrumentalists Yan Arexis and Patric Lafforgue of Heathen folk pioneers Stille Volk, and there must be something in the air up there because they have created something truly unique, beautiful, interesting and frightening in equal measures. Opener "Incipit" gets us underway with a blast of trombone courtesy of Wilfried Arexis who takes centre stage for this first haunting piece of music. Title track "Le Rite" is up next, driven by electronic instrumentation, this track still manages to have an ancient vibe, the vocals are chanted in an almost ritual like manner and the whole thing has the feel of some lost atmospheric black metal album. "Demiurge Thaumaturge" is a delve into dark ambient territory, however that pervading sense of the ancient remains. Built on a basic electronic drone and some distorted guitar the track features more chanted vocals and has the saturating air of dark rites performed atop mountains. "Gaestebud" is where we first see the collision of modern and ancient in full effect, albeit really short, it successfully mixes ancient and modern instrumentation in a way that few have ever tried. "Exuvie" is up next and takes us down more of a shoegaze/black metal route.
"Senta Mer "gets the second half of the album under way, hints of Hexvessel come to the fore, they are all over this album, but this is the first time they're really at the forefront. The sticker on the album's front cover proclaims the album as dark ritual folk, I really like this term and I think it's as close to a description as you're ever going to get. There is a definite ritualistic concept that is evident across the whole album, but this really comes together and starts to make sense by the time you reach this point in the story. "Etter Regnet" takes us into more ritualistic soundscape territory whilst "Exorcisme Apocryphe" adds a lighter touch to the darkness through some lush vocals. "Homelie Du Trepasse" is another darkly beautiful slice of folk/shoegaze in a similar style to Senta Mer. "Monastery" has a beautiful/creepy vibe all of its own, while "Ekklesia£ is the very epitome of the ritual song. Album closer "My Celestial Journey" takes the idea of the electronic folk song and makes it its own.


Overall, this is a wonderful ritualistic slice of folk/prog/black metal/shoegaze, you name it, it is in there somewhere, but what is most important here is that it work perfectly. The album as a whole feels like a 55-minute ritual event that can be taken as a whole or broken up into smaller individual mini rituals. The influence of bands like Hexvessel and Ulver can be heard throughout, yet it never feels like pastiche and there is always enough of the band's own identity shining through that it feels both original and fresh. If you like your dark ambient folk with a ritualistic vibe to it you could do an awful lot worse than check out this wonderful little record.






Darren Charles