Britannia Hospital - Britannia Hospital(Blu Ray) [Powerhouse Films - 2020]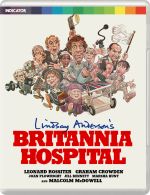 Between the years 1968 and 1982 British new wave director/ auteur Lindsay Anderson created the Mick Travis trilogy- his most infamous & iconic set of films, each mocked & satirizes certain British institutions/ British ways of life. First, there was 1968ís IfÖthat focused on the public school system, then there was 1973ís O Lucky Man, which sent up working middle-class life, lastly there was 1982ís pitch-black farce / sci-fi film Britannia Hospital- which set its sights on the nations national health service. Each film featured Malcolm McDowell, as Mick Travis, and each was as scathing & unpredictable as each other. From the folks at Powerhouse here is a much needed Blu Ray reissue of the third & final film in the trilogy- with the disc featuring a new scan of the film & some neat extras.

From the poster art/cover of Britannia Hospital- with itís crowded & wacky cartoon selection of characters you might be expecting a Carry On style hospital romp. And when you add into this key/ leading roles from the likes of Robin Askwith- of the british sex comedy Confessions series, and Leonard Rossiter of 70ís sit-com Rising Damp- youíd be almost positive thatís what youíll be getting. But the reality of it is quite, quite different- and that is perhaps one of the key reasons the film didnít gain itís audience when it was released, and why itís been largely forgotten compared with both IfÖ & O Lucky Man. What Britannia Hospital is, is a blend of cutting satire, class digs, and sly & often very dark humor all wrapped up in an odd-ball farce-meets-Sci-fi film, which later drops into some surprisingly gory'n'grim moments. Itís certainly not a film for everyone, and Iím very sure those going into see this back in the day expecting cheeky & innuendo-filled comedy would have been both puzzled & turned off by this very distinctive creation.

The plot finds happy-go-lucky investigative journalist Mick Travis (Malcolm McDowell) trying to break into & film the less desirable sides of Britannia Hospital- an institution that highlights the push Ďní pull going on between the nation health & growing private side of British hospitals. On the same day Travis is trying to break-in, Her Royal Highness Queen Elizabeth I is due to visit the hospital to open itís new wing, where advanced (and sinister) scientific experiments led by Professor Millar (Graham Crowden) will be taking place. Mixed into this we have striking cooks & kitchen staff led up by union leader Ben Keating(Robin Askwith ), various other union-run hospital departments, plus a group of rowdy campaigners at the hospital gates trying to get African cannibalistic dictator thrown out of the private wing of the hospital. And itís up to on-edge bureaucrat Vincent Potter (Leonard Rossiter), to try and resolve everything before the royal visitor appears.


The film is full of familiar faces beyond, McDowell, Askwith & Rossiter, we have the likes of Fulton Mackay- most known for his role as a prison guard in BBC sit-com Porridge as Chief Superintendant Johns. Thereís Brian Pettifer-Amadeus & Rab C. Nesbitt- as Biles, Rossiter right hand-man. We have Petter Jeffery- Doctor Who & Lipstick On Your Collar among his many credits- as pompous surgeon Sir Gefforfty, and many others. It really does feels like a whos-who of actors from that period in British film/ TV- which of course was very much under-funded in the 1980s. All of the cast do a largely good-to-ok job, though at times you do feel they are not totally agreeing with the mocking & satirical dialogue they are given.

As a film it starts on a fairly bum note- as we have an ambulance with a near-death old man been stopped at the hospital gates by union picketersÖ after some not very funny banter, heís let through barely alive, then left to die by on strike porters- so through-out we get very dark, dark humour- that is mocking of both the social & political period of the 1980s. Added to this we have several sub-plots, aside from the main royal visit- the Frankenstein like limb stitching of Professor Millar making two new projects, the unhappy private patients, and the campaigners trying to get the African dictator out. So, as a result, the whole thing comes across as fractured & episodic- with so many characters & mocking swipes going on within the films near on two-hour runtime, it can get quite trying. The film seemingly to gets more crazed 'n' manic as it goes on really- all moving towards a fairly unbalancing final act- that goes from bloody head been pulled off a stitched-together body, lots of rushing about, and a glum talking brain. It's certainly is a very distinctive, if not always wholly successful film- that I think would be of most interest to those who are aware of this time in Britain's social/ political history, enjoy very dark & mocking humor, as well as darts into Sci-Fi and bloody gore. So certainly not for everyone!


The new print looks well balanced- with more Sci-Fi & bloody moments nicely popping. On the new extra front, we get three on-screen interview- first and longest is with
Robin Askwith, this runs for twenty-one minutes- and finds the always entertaining Askwith full of stories about his time working with Anderson- going from his small/ first screen role on IfÖ. , moving onto his time on the set of Britannia Hospital- he recalls Anderson fondly, and says throughout his career that the director often rang to check in on him. Next, we have a nine-minute interview with actor Brian Pettifer, and an eleven-minute interview with editor Michael Ellis- both talk fondly on Anderson and both give good insights to working on the film. We get a BEHP audio interview with the films director from 1991, trailer/ teaser trailer, and image gallery.

With this release of Britannia Hospital Powerhouse have once again done a great & classy job in reissue yet another highly distinctive film- Iíd say I admire more than like much of the film's runtime, but thatís coming from someone whose not keen of overly stabbing & grimly political/ social commentary mixed in with there dark farcing.






Roger Batty