Scott Walker - The Drift [4AD - 2006]Somethingís are worth the wait, the eleven years wait for The Drift, was worth the wait. From the outset itís clear this can only be a Scott Walker album. Itís strange alien beauty ringing from every note, this is music to puzzle, to amaze, to get lost in. Like all great albums it will take many listeners to get proper handle on it. To understand all the reference points, even then it will still be unknown. The atmosphere here seems wider and vaster than that of his last album Tilt. The use of string work and noise elements is more enhanced, but also thereís ominous fields of starched guitar work, that murmur of lost Americana. Often mr. Walker's voice is left just to float in the darkness, wonderful and captivating. Also the wording is novel-like, painting wonderfully unsettling images that hover in your mind. It really seems the sound is painted around and to enhancing Walker's descriptive tone. Lyrically there seems to be lots of references body in states of death, a corpse's arms across its torso on Cossacks are, a man poking a hang body corpse on Clara. Mortality appears in the lyrics ,a lot too on the track Jesse. Walker's voice is just left floating without any music, repeating ďIím the only one left aliveĒ, which really is deeply haunting. Standout tracks are very difficult to pick as itís so well put together, each track going through so many different musical and sound elements. But I guess my favourites are the longer tracks like Clara ,which has the feeling of a very surreal film or odd dream. The tribal beat with walkers voice painting wonderful audio pictures and just as you're getting conformable, he drops in swelling sinister string work and guitar feedback over a strange beat Patten, then it drifts into cinematic tension with exquisite dark string work. This track really does capture the highs and lows of the album's sound, later on you are swarmed around by discordant guitar which then drops into the sound of someone punching meat, with the voice of Vanessa Contenay-Quinones (Vanessa And The O's) sailing over the top. On this album anything can and will happen, but itís never contrived. All of it fits together perfectly. This is an album to take in with out any interruption, a dark and haunting masterpiece, which goes way beyond mere entertainment. This album cries out for your time and concentration on the musical layers and the novel like text. Donít enter into it lightly. If I could, Iíd give it ten kudos- itís that good and important, if you only buy one album this year make sure itís this one. It stretches way beyond what most artists could capture in a ten lifetimes work. It's worth having a look at the website that been set up about the album here.






Roger Batty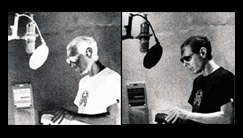 Scott Walker - The Drift
Somethingís are worth the wait, the eleven years wait for The Drift, was worth the wait. From the outset itís clear this can only be a Scott Walker album. It...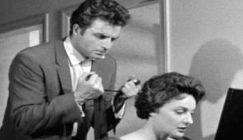 Noir On Powerhouse Films - From O...
Peopled by glamorously elegant- yet- tricky femme fatales, flawed heroes, and shadowy yet cunning criminal bosses- noir is one of the most atmospherically in...