Sihir, Dead Palace Clique, Les Cauchemar - Split [Seppuk Tapes - 2019]

From early on this year here's a C40 split release highlighting the walled noise talents of Frenchman Julien Skrobek- the tape sees him offering up a track apiece from four of his different projects, and as a release, it certainly shows both his flair for creating different takes and atmospheres with-in the walled noise form.

The release appeared on Seppuk Tapes- with the plain black shelled tape coming in a single-sided monochrome cover-this features overlaid pictures of builds and brick walls- which of course nicely illustrates the sonics with-in. It came in an edition of twenty copies, and as of writing Skrobek still has copies available.

The first track on side one is from Sihir- this is one Julien's more recent projects, which started this year- so far it's put out five releases taking in tapes and CDRs. The track here is entitled "The Fog Has Claws"- here we find three or four layers of rolling noise texturing- there's a murky & billowing one, there's juddering & slight knock mid, and a dry rapid whizzing texture- together these create a feel husk-like battering, as if your inside a tin can that's get buffeted back & forth around a winter rain-lashed car park. I really like this track, and I think it just might be my favorite of the four track- though it's difficult to full decided, as there's so much to like here
The second track on the first side is from the project Dead Palace Clique- this project dates back to 2014, though it only has two releases to its name. The track here is "Rotting Dandy"- this opens with a snippet of very reduced & grainy walling, before some French dialogue & 80's pop sample. Then we drop into this extremely blunt & very washed-out wall- which is built around an extremely muffled roasting drone, and this seesaw semi harmonic tone which you can just make out- with-in a few minutes a top layered of rolling static is added to this. Things shift a little more along the length of the track as the drone shifts from odd sort of washed-out like rushing textures through to thick synth-like hacks, with the top layer dropping in & out too. This is certainly a very eventful 'wall', with Skrobek creating a feeling of cavernous yet shift mystery with despairing post-industrial edges.

Moving onto the second side- and first, up we have a track from the project Les Cauchemars Naissent La Nuit- this is another project that dates back to 2014, and has only two releases to its name. The track is called "Camera"- here we find a blend of churning & muffled drone-like hiss, that's topped with rapidly choppy static patter-nation. With this 'wall' Skrobek created a feeling of drifting up & up in a air balloon vibe, as reality eating monsters( ala Stephen Kings The Langoliers) eat around you- wacky description I know- but that's what I get .
The last wall on the tape comes from The Killer Came From The Bronx- this has been going since 2014, having around six releases to its name. The track here is "The Last Train"- and here we find a mixture of slowly panning out underdone, which is topped with a mesh rolling 'n' snapping static. As the track progresses you get this neat feeling of slightly knitted circles of static descend & build occurring, much like candyfloss building in a drum- this creates a very interesting feel of a constantly slowing wall- which in reality I think is very much fixed.

So, in conclusion, this is a great C40- full of four different sounding walls- the idea of a single artists doing a four-way split focused around their own projects, really wouldn't be possible for most artists , as the feel from projects to projects often sound similar- but with this split each track has it's own feel & identity. So if you've become cynical about the lack of creativity in the wall noise scene of late, this is certainly a release to please you.






Roger Batty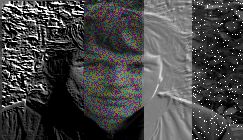 Sihir, Dead Palace Clique, Les Ca...
From early on this year here's a C40 split release highlighting the walled noise talents of Frenchman Julien Skrobek- the tape sees him offering up a track a...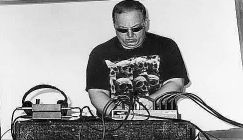 Schloss Tegal - Back To The Dark...
Existing since the late 1980's Schloss Tegal is an incredibly important and influential project, within both the dark ambient and industrial scenes. It...