Llyn Y Cwn - Twll Du [Cold Spring Records - 2019]

Like many sparse & atmospheric genres, dark ambience can be a tricky genre to do right. There's certainly a very thin line between been creepily believable & bone-chilling, and downright tacky & contrived. It's all about getting the right balance of haunting & brooding harmonies, dynamic sound texture use, and all-round generally sound atmospherics. Here's the first physical release from this welsh dark ambient project Llyn Y Cwn- and unfortunately it's an album that feels very much on the cusp between effective enough-and-over done…which is a real pity, as I've always had a soft spot for the dark ambient genre counting the likes of Yen Pox's Blood Music & Band Of Pain's Reculver as some of my favorite/ often revisited albums in the genre.

Llyn Y Cwn (Welsh for lake of the dogs) is a small lake in Snowdonia mountain range in North Wales, and the solo project of one Ben Powell. The projects been active since 2015, and before this full-length release on Cold Spring, it had only released a handful of digital-only releases.

The album takes its title from the welsh title for black crack that's between three large mountains of Clown y Geifr, Y Garn and Glyder Fawr in the Snowdonia area of North wales. The English translated of the album title is Black Hole, or Devils Kitchen- so good brooding/ grim/ fairly original theme for a dark ambient album. The CD is presented in moody digipak- this takes in black & white photographers of misty & overcast welsh mountainscapes.

The fifty-five-minute album takes in seven tracks in all- and each of these runs between five and eleven minutes. Following the project/ album theme all the titles are in Welsh- and I presume linked to the Snowdonia area. The project blends together often dense maps of field recordings & ominous sound textures, with slow & sweeping layers of drones & synth ambience. The sound through out most of the album's runtime is extreme thick & layered- and this is my main issue here, it all sounds so large and vast that at times it almost becomes a parody of the dark ambient genre. Sure field recording & creepy found sounds are key to the genre- but if, like much of this album you have too many, the whole thing starts to lose its dark atmosphere to become more of modified sound art.

There are accomplished and worthy drones & stretched grim harmonies present on most of these tracks, but much of their impact is lost/ buried under the layer of sounds. It's not until the last two or three-track that Powell finally thins things back somewhat, and here the album really does finally shine darkly- as he balances the elements in a more even & nuanced manner.

Really I guess how much you enjoy this album is down to what you are expecting- if you're after a good & even balance mix of environmental field recordings & drone/ ambience elements ala Lustmord- you'll find this release often frustrating & overdone. But if your looking for a dense & vast album that more heavy on brooding sound texturing, and lighter on more defined drone & dark melody you'll be fine….sadly I fall in the first camp, so this wasn't for me.






Roger Batty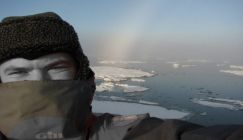 Llyn Y Cwn - Twll Du
Like many sparse & atmospheric genres, dark ambience can be a tricky genre to do right. There's certainly a very thin line between been creepily believab...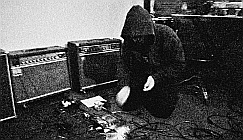 Perpetual Abjection & Unsignifie...
There has always been a close connection between the walled noise scene, and various themes/ obsessions- be it nihilism, giallo/ cult films, true crime, grim...