Vide Médian / Black Matter Phantasm - Self Titled [Ominous Recordings - 2019]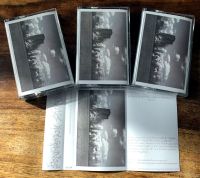 Here's a C90/ digital split that brings together two lengthy submersions of building falling 'n' bone crushing brutal walled noise- the release brings together French projects vide médian and Black Matter Phantasm.

The labeled tape is presented in a white & grey sleeve- this features on its front cover a picture of field, and in the distant is a collapsing tower block. Inside we find grey texts detailing the tracks & their runtimes, as well as photo credits and weblinks. This cassette came in an edition of twenty fives copies, and as of writing this review the label still has a few copies available.

Each project severs up a single slab of densely battering & sonically brutalizing wall matter- and first out of the door is vide median, with a track entitled "Monuments Translucides". This 'wall' is built around a very weighty blend of rumble bound bass grind, slightly rattle focus crude droning, and skittering-to-swishing thinner static sweeps. Together these elements create a wonderful lead like crushing thickness- which at the right volume will both vibrate one's bones, buzz through one's mind, and literally lay waste- leaving you in a brutal trance. The whole construction of the track feels extremely full & firm, though I do sense some subtle play/ shift with-in all of the textures.

Flipping over the tape and we have the track "Untitled 850" from Black Matter Phantasm. With this 'wall' the pace/speed picks up from the last track- as we get a blend of rapid-slightly crust bound bass grind, darting & dragging static play, and constantly descending rattle. This 'wall' feels less thick & brutally doomed than the first track, and more like your been dragged along behind a rundown truck over an uneven concrete surface us you get unformed bounced, flipped & battered. Once again it feels like there is some sort of play/ shift in the texturally make-up, though not as busy in this element as compared to the first track.

In summing this self-titled split- if you enjoy lengthy journeys into battering & unforgiving wall matter- then I think you'll find appeal here. I'd say of the two tracks here- the first is my favorite, the second ok- it just lacks the doomed & brutal hacking charm of the first 'wall'.






Roger Batty