Evan Parker, Mathew Wright & Trance Map - Crepuscule In Nickelsdorf [Intakt Records - 2019]

Crepuscule In Nickelsdorf is a true head-trip of a release- it brings together a dizzying-to-dream like a blend of cascading & vivid Sax work, snaking double bass- with electronics, turntable textures, and bird 'n' insect field recordings. It's a release that straggles various experimental genres, and really is one of the most multi-layered & heady records I've heard this year.

The album comes in the form of either a CD or digital release- and appears on Zurich based jazz/ experimental music label Intakt Records. The album takes in seven tracks in all, with a runtime of just shy of an-hour- with the suite of tracks all coming from a live recording made by the five-piece band in 2017 at the Kofrontationen festival in Nickelsdorft Austria.

The line-up here is most impressive- we have two key British Avant/free jazz figures leading up the recordings- Evan Parker on Soprano Sax & Matthew Wright on Turntable live sampling. They are joined by Adam Linson on double bass & electronics, John Coxon on turntable & electronics, and Ashley Wales on Electronics.

The idea of the Trance Map as an ensemble & composition sits somewhere between composed & improvised- with Parkers playing trigging off interactions with samples from his past work. Each of the suite of tracks are named Crepuscule in Nickelsdorf Parts 1-7, and really to try and accurately chart/review what happens in many of the shifting & often fairly dense tracks here would be futile, and a little boring to read - so instead I'll discuss some of the sonic places this shifting composition goes to.

The album opens with a building ambient soup of wailing siren tones, weaving & twisting bird sounds, slurred textured pulls- that take in vinyl pops, and foreboding drone banks. As the minutes tick by the bouncing, merging & stretching of the modified bird calls get more blurred & stretched- as if your making you way into some strange shifting alien jungle- along with this we get the emergence of Parkers Sax. At first, this is curious & careful in it's placing- but fairly soon we lock into that wonderful cascasading & expanding corridors of sound Parker is known for- and one doesn't really know what are bird sounds or sax. As we move through the record we go from blends of screeching & baying electronics, darting bass purrs & fumbles, and flapping-to-squawking bird sounds. Moving onto more pared-back rhythmic & off-kilter groove moments- bringing scratching grain electro percussion, dragged & blunt bass tone, and violent honking curls of horn work. Though-out the album darts, shift, and drifts in wonderfully worthy manners- with the five pieces skilfully managing though-out to keep you held, often surprised & enthused by the whole thing.

Through-out his forty-plus year recording career, Evan Parker has remained one of the most daring, creative & distinctive of Sax players- and once again this release highlights he's still very much at the height of his powers. The other four players each add & fill out the sonic picture with both flare & keen invention. Without doubt Crepuscule in Nickelsdorf is one of this year highlights- and if you enjoy your experimental music/sound that's difficult to tie down into one genre- this is most certainly for you!.






Roger Batty




Evan Parker, Mathew Wright & Tra...
Crepuscule In Nickelsdorf is a true head-trip of a release- it brings together a dizzying-to-dream like a blend of cascading & vivid Sax work, snak...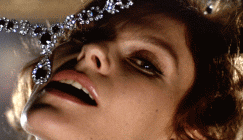 Paige Davis, Michael Raso & Lisa ...
As the interest and reassessment of sleazy celluloid from the past grow in leaps & bounds, so does the reissuing of both soft & hard-core porn on Blu...