Hell Comes To Frogtown - Hell Comes To Frogtown(Blu Ray & DVD) [Vinegar Syndrome - 2019]

Hell Comes To Frogtown is a light and fun-if-at-times frivolous take on the popular 1980ís Sci-Fi sub-genre of Post Apocalyptic adventure. The 1988 film features wrestler "Rowdy" Roddy Piper, as Sam Hell one of the last fertile men in the post-nuclear landscape- itís a pacey-if-uneven blend of subtly cheeky/ sexual humor, tacky one-liners, the odd action scenes/ set-ups, and big-headed humanoid frogs. From the folks at Vinegar Syndrome here we have a dual format Blu Ray & DVD release of the film- offering up a new commentary track & a good enough selection of extras.

Hell Comes To Frogtown(aka Sam Hell, The Hunter) was co-directed by Donald G. Jackson & R.J. Kizer- and is very much of a pulpy & campy take on Post Apocalyptic Sci-Fi- with a 1980ís lightly smutty vibe running through its middle. The film finds the roguish Sam Hell( Piper) roaming the wastelands getting various women pregnant- a group of female government scientists become aware of this, and decide to capture him, and convinces him to help them save a group virgins from Frogtown- a rough & ready bar/ trading place set up in a huge ex-industrial factory. The place gets its name from the half-human/ half frog people that run the town.

The film begins as a cheeky & comic re-take on the beginning of Escape From New York- with piper get conned into helping the scientists, and secretly get place a male chastity belt on his manhood- this is alarmed & fitted with a stinger, so if he wanders too far from his captors he gets a nasty shock. Next Piper and the female scientists set out to frogtown in a mini pink tank/ truck- along the way we get some light sexual comic interactions, and the odd more action-packed moments. When they get to Frogtown Piper is capture by the Frogs evil leader, and the women are sent into the harem- until he escapes, saves the virgins, and saves the day. The film moves along at a fairly rapid, light, and cheeky pace- with subtle sexualized humor/ quips, over the top nasty/ campy frog humanoids, the odd shoot-out/ action sequences, and Pipers one-liners. Itís a good enough way to pass an hour & a half of one's time if you in the mood for slightly wacky & amusing 1980ís sci-fi.

Moving onto this new release from VS- and we get a good selection of extras- first, off we get a new commentary track from cinematographer/director Donald G. Jackson and writer/producer Randall Frakes- this begins with pair discussing how they first met on Roger Cormanís produced Galaxy Of Terror. Before moving onto talking about Hell Comes To Frogtown influences- comic books, Russ Meyer films, spaghetti westerns & pulpy Sci-fi. How there deal with New World Pictures, and how the companies executives meddled & cut back their original vision- for example they wanted the frog mutants to be more crazed/ sophisticated with multiple arms. The pair go onto discuss the casting of Piper in the lead, the films main industrial setting, etc. All in all, itís a largely interesting, honest, at times slightly imbittered track- which will certainly be of interest to those who want to know about the difficulties of trying to get more quirky projects off the ground in a relatively big studio setting.
Next we get a selection of interviews- first & longest of these is with writer/ producer Randall Frakes- this comes in at just under the hour mark, and finds him covering similar ground to the commentary- discussing the issues/ disappointments with the film. Next, we get around a fifteen-minute interview with the following Roddy Pipper, actor Brian Frank who played one of the Frogs, and f/x artist Steve Wang. Lastly, we get an extended scene & theatrical trailer. On the new print side of things, we have a 4K scan from the original 35MM print- this looks nicely balanced & even- though because the film features a fairly subdued desert/ industrial setting with largely murky-to- dark green color pallet- it's nothing mind-blowing. So not as punchy/ impressive as some VS scans, but this is purely done the film its self.


Once again with this release VS offer up another distinctively quirky 1980ís film- with a nice selection of worthy/ interesting extras. So if you enjoy off-the-wall/ though fairly light Sci-fi comedies with fleeting action elements and plenty of cheeky quips I bet youíll get some joy out of Hell Comes To Frogtown.






Roger Batty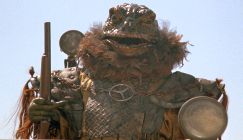 Hell Comes To Frogtown - Hell Co...
Hell Comes To Frogtown is a light and fun-if-at-times frivolous take on the popular 1980ís Sci-Fi sub-genre of Post Apocalyptic adventure. The 1988 film feat...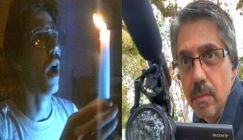 Mark Polonia - Of gore-bound far...
When one thinks of gore-bound, yet creative Short-On- Video films of the 1980ís & 1990ís- the first two names that come to mind are Mark and John Polonia...