Phil Niblock/Catherine Lamb - Ensemble neoN [Hurbro - 2019]

Ensemble neoN is a CD release that brings together two great examples engrossing & often mind expanding modern drone craft. The release features two respected American figures from the scene- drone legend/pioneer Phil Niblock, and tonal blurring composer Catherine Lamb.

The release appears on Norway's Hurbro- and is presented in a mini four-panel gatefold- this features close-up black & white pictures of flower heads, which of course perfectly illustrates the glowing & expanding layers of drone matter found on each of the tracks here. The release also takes in a twelve-page inlay booklet- this covers the Only Connected Festival- the event these pieces were originally composed for. Going to list the instrumentations used to create each track- there's a write-up from each artist about the track's creation, and a write up from respected Norse producer/ noisemaker Lasse Marhaug who produced/ mastered both of the tracks here.


The first track here is Phil Niblock's "To Two Tea Roses"- this comes in at just over the twenty-three-minute mark, and for the piece, we have the following players/ instruments- Yumi Murakami- Flute & bass flute. Ida Kristine Zimmermann Olsen-Alto Saxophone, Baritone Saxophone Kristine Tjøgersen-Bass Clarinet.Inga Byrkjeland- Cello. Heloisa Amaral & Magnus Loddgard- Piano Ane Marthe Sørlien Holen-Bowed Vibraphone & Karin Hellqvist-Violin. The piece is focused in on creating a dense simmer mesh of one-note drone- one ensemble was pre-recorded, and this is played while the second ensemble played- so as a result, one get the smallest of microtonal displacements- which creates this very grand & thick hovering sound. The feel of the track is of simmering- yet- slightly malevolent grandeur- and in my mind, it brought to mind the slow-burning of a vast waterside palace- as the flames are shown in both actuality & in refection. In the drone, one can clearly define both mid-range majestic rolling drone, & ringing & hovering harmonics- and this is what really hypnotizes & pulls you into the pieces spellbinding flow. I'd say it's a few years since I've heard anything from Niblock, and this track is certainly up to his usual high & entrancing standards- with his own take on the drone form been very pronounced & recognisable.


Next, of course, we have the Catherine Lamb track "Parallaxis Forma"- and this is slightly longer than the first track at nearing the twenty-five & a half minute mark. And once again we have a fair selection of players- taking in Ida Kristine Zimmermann Olsen-Alto Saxophone.Kristine Tjøgersen- Bass Clarinet. Jan Martin Smørdal-Electric Guitar . Yumi Murakami- Flute, Bass Flute .Kaja Aadne Thoresen- Cello . Jennifer Torrence-Wine Glasses .Silje Aker Johnsen, Stine Janvin Motland-Voice, and Karin Hellqvist-Violin. This piece is less about a continual pressing & simmer take on drone, and more about stretched out hovers & sustain drifts. Over the works runtime, the main & consistent element is the female voices- which are fixed on one note. Around these the other elements drift, build then recede- creating this deeply haunting & fairy somber take on the drone form. Where the first track felt to be all about slowed majestic destruction- this feels about looking up at a vast painted ceiling taking in the awe-inspiring wonder of it all. As with the first track, Lamb certainly presents her wholly own take on the drone form, and it works well as a sonic bedfellow to the first track.

As a release Ensemble neoN severs up a truly spellbinding forty eight-minute album- with each track capturing perfectly each composer take on the drone from. Really a very special release- that pushes the drone genre to levels of grandness & simmering moodiness.






Roger Batty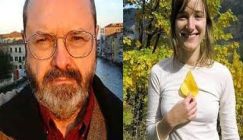 Phil Niblock/Catherine Lamb - Ens...
Ensemble neoN is a CD release that brings together two great examples engrossing & often mind expanding modern drone craft. The release features two resp...






SRS Cinema - Purveyors of gorily ...
Since the early 90's SRS Cinema has been releasing all manner of underground horror, be it gory SOV, general z-budget horror, or low-fi creature featur...